PETA Presents Family With Framed Certificate and 'Doggie Bag' of Goodies
For Immediate Release:
May 18, 2016
Contact:
Megan Wiltsie 202-483-7382
Tampa, Fla – Courtesy of PETA, a Heroic Dog Award is being delivered to the DeLuca family for their German shepherd, Haus, who defended their daughter from an Eastern diamondback rattlesnake in their backyard. In recognition of the dog's brave actions, PETA is giving the family a framed certificate and a get-well "doggie bag" for Haus containing a blanket, an eco-friendly squeaky toy, a Nylabone, and a bag of vegan dog treats. The award follows an incident on May 11—just two months after Haus was adopted from a local animal shelter—in which the 2-year-old pup sprang into action to save 7-year-old Molly from injury, placing himself between the girl and the rattlesnake and refusing to retreat even after being bitten three times.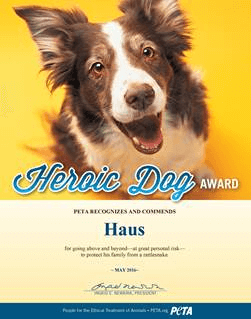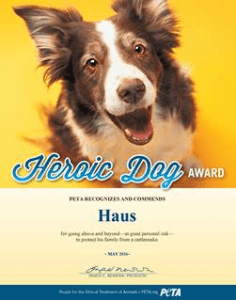 "This brave dog risked his life to protect his family, and he's a great example of the wonderful, loving companions available at animal shelters," says PETA Vice President Colleen O'Brien. "PETA urges anyone with the ability and resources to care for an animal to adopt one from a local shelter, rather than buying from a breeder or pet store."
Haus spent a week in the intensive care unit at an emergency veterinary hospital, where he received a blood transfusion, IV fluids, and daily doses of antivenom and painkillers. He is expected to make a full recovery with lots of care from his loving family. The public has shown their support by donating thousands of dollars to the DeLucas to help with veterinary bills, and the family plans to give any unused funds to a local animal-rescue organization.
PETA—whose motto reads, in part, that "animals are not ours to abuse in any way"—offers tips for helping animal companions on its website.
For more information, please visit PETA.org.