For Immediate Release:
October 5, 2023
Contact:
Moira Colley 202-483-7382
Mount Hope, Ohio – A just-released PETA exposé into the Mid Ohio Alternative Animal and Bird Sale—operated by the Mt. Hope Auction—uncovered numerous apparent violations of the federal Animal Welfare Act (AWA) at the September event, including multiple animals suffering from severe and obvious injuries and illnesses. These included animals with broken legs, open wounds, respiratory infection symptoms, eye and nose discharge, loose stool, hair and feather loss, and overgrown coats and hooves as well as animals who were emaciated, were lethargic, and exhibited abnormal repetitive behavior, including pacing frantically and biting their cages.
Multiple animals were confined without water and were kept in crowded pens and cages, some so small that they couldn't stand upright or turn around. In response, PETA submitted a formal complaint to the U.S. Department of Agriculture (USDA) today demanding an investigation into the auction, which has been cited for violations of the AWA 36 times—including 19 repeat citations—since last September.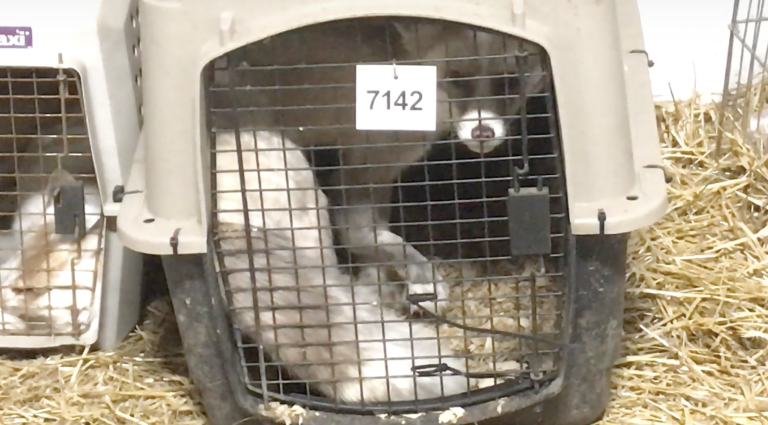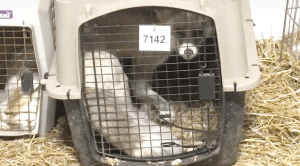 This red fox at the auction had a broken leg. Photo: PETA
"The Mt. Hope Auction is a nightmare for the thousands of animals who are sold like pieces of old furniture to people who likely don't have the resources, knowledge, or desire to care for them properly," says PETA Foundation Director of Captive Animal Welfare Debbie Metzler. "PETA is calling on the USDA to investigate this auction, which is a breeding ground for suffering and abuse, and urges families never to buy a ticket to cruel roadside zoos."
The eyewitnesses also observed Ashley Kokas of Ohio-based Kokas Exotics apparently selling animals illegally at the auction, including a baby kangaroo. The USDA revoked Kokas Exotics' federal license in August after the business racked up an alleged 113 violations of the AWA in just over a year. The Mt. Hope Auction has been cited repeatedly for knowingly selling animals from individuals who didn't have the legally required licenses.
Also among the sellers was Henry Hampton, who has been investigated by the USDA for years and hit with hundreds of citations for violating federal law at his two roadside zoos—The Farm at Walnut Creek in Ohio and Lazy 5 Ranch in North Carolina. He was seen selling multiple kangaroos, who were roughly handled, dragged around by their tails, and relegated to tiny, barren pens when they weren't on the auction floor.
PETA—whose motto reads, in part, that "animals are not ours to abuse in any way"—opposes speciesism, a human-supremacist worldview. For more information on PETA's investigative newsgathering and reporting, please visit PETA.org, listen to The PETA Podcast, or follow the group on X (formerly Twitter), Facebook, or Instagram.