PETA Ad Goes Up Near Fast-Food Outlets—With a Message That Factory Farms and Animal Markets Spread Disease and Going Vegan Could Save Us All
For Immediate Release:
August 12, 2020
Contact:
Nicole Meyer 202-483-7382
Kokomo, Ind. – As the number of COVID-19 cases increases in Indiana, PETA has placed a billboard within chewing distance of a Kroger store and several fast-food restaurants pointing out that speciesism—the pompous belief that humans are superior to other animals and that gives us the right to confine and slaughter them for food—is the source of a litany of deadly diseases, including COVID-19.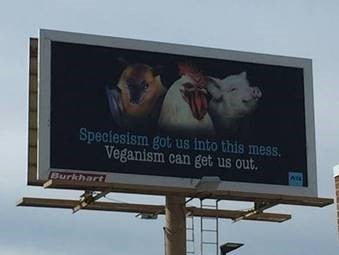 "It's a fact: Eating meat from animals who were confined in their own filth hurts them and comes back to bite us in the form of pandemics," says PETA President Ingrid Newkirk. "PETA offers free vegan starter kits, free vegan mentor services, and free tips on animal-friendly eating to help people save lives, including their own."
Confining and killing animals for food has been linked to SARS, swine flu, bird flu, and COVID-19, and a new strain of swine flu with "pandemic potential" has been spreading from pigs to humans in China. In U.S. slaughterhouses, workers stand shoulder to shoulder and slit animals' throats above blood-soaked floors, with line speeds so fast that animals end up thrashing around and injuring them—conditions that allow COVID-19 to spread. Fewer than half of slaughterhouses report offering testing to their employees, and more than 40,000 cases among workers have been recorded.
The billboard is located at 2821 S. Washington St., across from a Kroger store and near a McDonald's, a Burger King, a Domino's, and other fast-food restaurants. The ad is also a 30-minute drive from a Tyson pig slaughterhouse, where hundreds of employees have tested positive for COVID-19.
Resources on PETA's website include vegan starter kits and a list of vegan-friendly restaurant chains. PETA—whose motto reads, in part, that "animals are not ours to eat"—opposes speciesism, a human-supremacist worldview. For more information, please visit PETA.org.