For Immediate Release:
June 24, 2022
Contact:
Megan Wiltsie 202-483-7382
Morgantown, W.Va. – "Was She Killed to Make Your Carry-On?" asks the new messages from PETA that just went up near baggage claim, the rental car counter, and the waiting area of Morgantown Municipal Airport. The can't-miss images, which encourage everyone to opt for cruelty-free, eco-conscious travel accessories, are greeting people landing in the Mountain State—named a top travel destination for 2022 by both Lonely Planet and Condé Nast Traveler—during what experts predict will be one of the busiest summer travel seasons ever.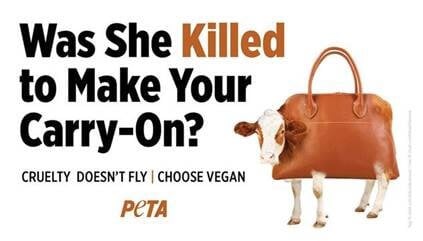 "Vegan luggage is just the ticket for sustainable style that spares cows and shrinks our carbon footprints," says PETA President Ingrid Newkirk. "PETA hopes travelers will choose wisely to save all our skins by embracing innovative vegan leather made from everything from fruits and fungi to kombucha and cacti."
A PETA video exposé of the world's largest leather producer revealed that calves were branded on the face and that cows and bulls were electroshocked and beaten before being killed for their skin. Turning animal skins into leather can require the use of 130 different chemicals—including cyanide—and leather production produces massive amounts of the greenhouse gas emissions that contribute to the climate catastrophe. The World Bank has also reported that cattle ranching is responsible for over 80% of deforestation in the Amazon rainforest since 1970.
PETA—whose motto reads, in part, that "animals are not ours to abuse in any way"—opposes speciesism, a human-supremacist worldview. For more information, please visit PETA.org or follow the group on Twitter, Facebook, or Instagram.