PETA Honors Brooklyn Native Shimon Shuchat by Swapping Four Birds From a Live-Animal Market for Vegan Meats
For Immediate Release:
August 13, 2020
Contact:
Brooke Rossi 202-483-7382
Brooklyn, N.Y. – Shimon Shuchat, age 22, died on July 28 after spending much of his adult life protesting outside live-animal markets and wherever else chickens met their deaths, hoping to persuade people to stop eating them. In memory of his activism, PETA and Brooklyn-Queens Animal Save rescued four hens from a New York City live-animal market last night, exchanging them for packages of vegan Gardein chicken and Beyond Sausage. These photos show the birds, now named Shimon, Shuchat, Katerina, and Juliana, on their way to their foster home at Long Island Orchestrating for Nature (LION), which will care for them until they're adopted into permanent, loving homes.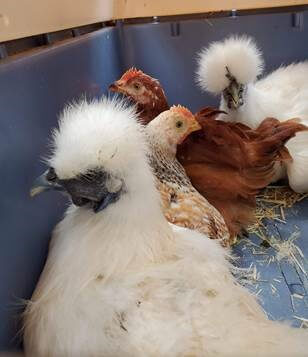 "Shimon longed to save chickens from the knife, and his loss leaves a gap that every one of us must fill so that birds don't pay with their lives," says PETA President Ingrid Newkirk. "PETA asks everyone to honor his kindness by speaking up if they witness cruelty to any animal and by buying vegan chicken for friends and family who haven't made the switch."
In his honor, PETA has also donated vegan chicken dinners to Hannah's Kosher Pantry of the Hannah Kosher Food Shabbat Foundation, which serves the ultra-Orthodox community where he grew up, and gave free vegan chicken sandwiches and packages of frozen Gardein chicken to workers at a chicken slaughterhouse in Maryland.
The meat industry crams chickens who are killed for their flesh into filthy sheds by the thousands. At slaughterhouses, workers cut their throats, often while they're still conscious, and at live-animal markets, they're stacked on top of each other in excrement-covered cages—conditions that allow pathogens like the novel coronavirus to spread to humans. Each person who goes vegan saves the lives of nearly 200 animals each year.
PETA—whose motto reads, in part, that "animals are not ours to eat"—opposes speciesism, which is a human-supremacist worldview. For more information, please visit PETA.org.