Double Take: Mobile PETA Billboard That Switches From Pig to Puppy Will Be Outside the Swine Conference to Urge Mercy for All Animals
For Immediate Release:
September 13, 2019
Contact:
Megan Wiltsie 202-483-7382
St. Paul, Minn. – Attendees of the annual Allen D. Leman Swine Conference tomorrow and on Monday will be served up some food for thought. PETA plans to have a new mobile billboard outside the conference proclaiming, "All Beings Bleed the Same." The ad shows a cowering piglet being carried by a bloodstained slaughterhouse worker—with an illustration of a terrified puppy superimposed over the pig.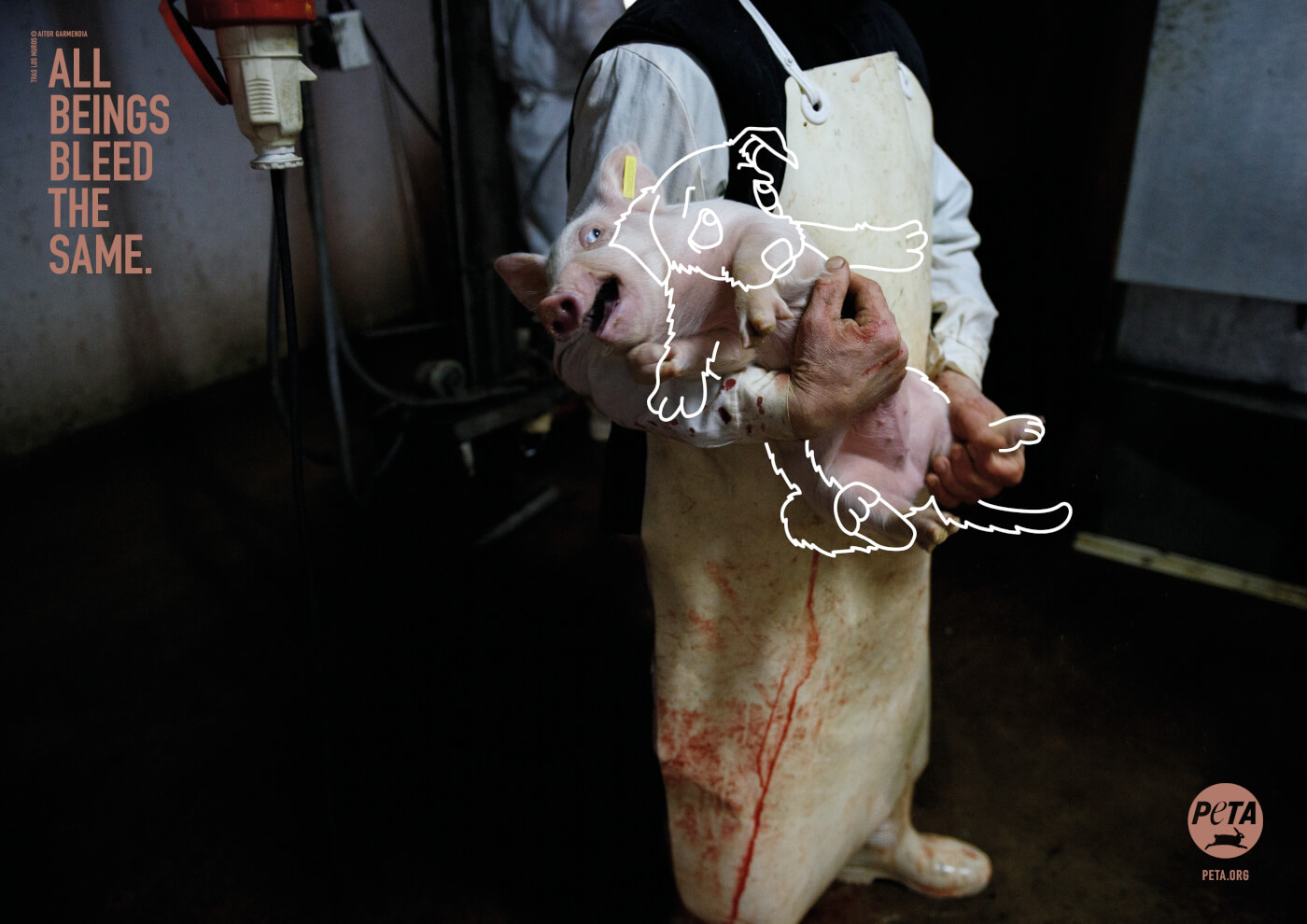 "When it comes to feeling pain and fear, a pig is no different from a dog, a cat, or a human being," says PETA President Ingrid Newkirk. "PETA's billboard reminds us that we're all the same in the ways that matter and that the kindest thing that we can do for animals is keep them off our plate."
PETA (whose motto reads, in part, that "animals are not ours to eat") notes that because of speciesism—the human-supremacist belief that other animals are nothing more than commodities—pigs are routinely abused in horrific ways that would be illegal if the victims were dogs or cats. In today's pork industry, mother pigs are squeezed into narrow metal stalls barely larger than their bodies and kept almost constantly pregnant or nursing—and their piglets are typically slaughtered at just 6 months of age. Pigs' tails are chopped off, their teeth are cut with pliers, and males are castrated—all without any pain relief. At the slaughterhouse, they're hung upside down, often while still conscious, and bled to death.
The World Health Organization says that eating processed meat can cause cancer, and a recent study showed that consuming just one piece of bacon a day increases one's chances of developing colorectal cancer by 19%. According to the Academy of Nutrition and Dietetics, vegans have lower rates of obesity, diabetes, cancer, and heart disease than meat-eaters do.
The ad campaign was created by PETA Germany and advertising agency DDB Prague using images from animal rights photographer Tras los Muros.
For more information, please visit PETA.org.
#