Published by .
If you're looking for the perfect gift for a special someone on your holiday list, look no further than the delightful new book by parenting blogger and fledgling animal-sanctuary owner Tracey Stewart.
Do Unto Animals: A Friendly Guide to How Animals Live, and How We Can Make Their Lives Better is a charming, lavishly illustrated animal rights primer that lives up to the "friendly" in its title, providing fascinating facts about animal behavior and intelligence with liberal doses of self-deprecating humor, gentle persuasion, and infectious enthusiasm.
A former licensed veterinary technician, Stewart writes about companion animals, farmed animals, and wildlife with a biologist's eye for detail coupled with a psychologist's sensitivity and empathy, along with a deep understanding of animals' needs, desires, and motivations. Readers will learn how to speak "Cat-ese," "Dog-ese," "Pig Latin," and other animal "languages." They'll also find out why declawing is so painful and harmful to cats, why horses would rather not spend all day pulling your carriage (thank you very much!), and why the term "bird brain" is so insulting, misguided, and, well, just plain dumb.
In Stewart's universe, animals are friends, neighbors, family members, and co-travelers on life's journey. She talks about animals as if they were cool, interesting people you'd like to invite to a party, referring to rabbits, moles, and squirrels as "the landscaping team" and calling farmed animals "superheroes hiding in plain sight."
Stewart makes a strong case for adopting homeless animals from shelters and hammers the point home with a section that sings the praises of mutts, complete with adorable illustrations by artist Lisel Ashlock of made-up "breeds" such as "The Sweet-Faced Goodenboy" and "The Sad-Eyed Shepherdmush."
Stewart peppers her writing with autobiographical references to her childhood, her parents, her children, an ex-boyfriend (to whom she assigns a hilarious pseudonym), her husband (former Daily Show host Jon Stewart), and companion animals past and present. Her personal stories about animals she has known and loved lend the book the feel of a diary, a notebook, or even an exchange of letters between friends, complete with engaging illustrations of dogs, cats, chickens, frogs, owls, goats, crows, and even a bird funeral. In one section, Stewart describes how to go on a "hurtless hunt" complete with a—you guessed it—field notebook. Her how-tos are hands on, with lots of fun, creative DIY projects, including everything from cat toys and dog biscuits to birdhouses, beehouses, and ponds.
Stewart uses an irresistible mixture of humor and pathos to convince people to treat animals with kindness. I challenge anyone not to tear up when she talks about hearing mother cows crying for their calves who have been taken away to be sold for veal. "Sometimes you have to listen a little harder to understand what an animal is trying to say," she writes. "And sometime they are saying it so loudly it's hard to imagine people don't hear."
It's also hard to imagine anyone reading this book and not coming away from it thinking, "I must start being nicer to animals right now, today." This charming animal rights textbook is perfect for animal friends from ages 9 to 99. Buy a copy for a loved one today—and be sure to ask to borrow it when he or she has finished reading it!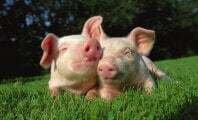 Order Your FREE Vegan Starter Kit