Published by .
Spring is in the air! Can you feel it? Whether you plant a sprig or a garden, have a fling or fall in love, this season is all about positive growth and change. In this spirit, we hope the following songs by vegetarian and vegan artists can inspire some positive change for animals, too!
1. "Blue Sky" by Common: "In the sky we'll find the light … Now we in the skies, blue skies/ And we going higher …."
2. "Across the Universe" (Beatles cover) by Fiona Apple: "Images of broken light which dance before me like a million eyes/ They call me on and on across the universe …." A combination of vegetarian and vegan musicians helped create the legacy of this classic Beatles' song: George Harrison, Paul McCartney, Ringo Starr, and Fiona Apple!
https://www.youtube.com/watch?v=UXE1C–WezU
3. "Computer Love" by Kraftwerk: It's clear that vegetarian Ralf Hutter believes in love for animals and computers!
https://www.youtube.com/watch?v=TFR5XWneG3s
4. "Cloudbusting" by Kate Bush: "'Cause every time it rains,/ You're here in my head, like the sun coming out  …."
5. "Pyramid Song" by Radiohead: "I jumped into the river/ … And we all went to heaven in a little row boat/ There was nothing to fear, nothing to doubt …." Thom Yorke is definitely on his way to heaven with his completely animal-free lifestyle!
https://www.youtube.com/watch?v=s2VzLn6DMCE
6. "Nothing Compares to You" by Sinead O'Connor: "It's been so lonely without u here/ Like a bird without a song …." Prince wrote this song, which O'Connor made famous, and both are animal-friendly musicians! The heart skips a beat.
https://www.youtube.com/watch?v=iUiTQvT0W_0
7. "Eagle" by ABBA: "I'm an eagle that rides on the breeze/ High, high, what a feeling to fly/ over mountains and forests and seas/ and to go anywhere that I please …." Singer Anni-Frid Lyngstad goes anywhere she pleases with her compassionate diet!
8. "My Love" by Paul McCartney & Wings: "And when the cupboard's bare/ I'll still find something there with my love …."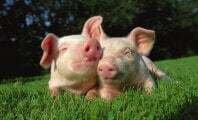 Order Your FREE Vegan Starter Kit