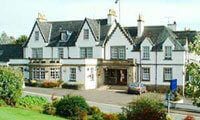 If you're planning a getaway, chances are you're yearning for an alternative to cookie-cutter motel chains that offer scratchy, stained comforters that are anything but comforting and "continental breakfasts" of cold coffee and even colder toast.
Inns are a popular, romantic alternative to motel chains, and a delightfully surprising number of bed and breakfasts are billing themselves as vegetarian and/or vegan retreats, offering comfortable, homey lodging and delicious meat-free cuisine for their guests.
So Sweet! Sweet Onion Inn
Nestled in the Green Mountain National Forest in the heart of Vermont, the Sweet Onion Inn, run by Kathy and Ron Heatley, offers six private guest rooms and a tantalizing vegan breakfast and dinner service guaranteed to melt your cares away as soon as you set your suitcases down. For breakfast, savor French toast drenched in organic Vermont maple syrup, tempeh sausage, and miso gravy over biscuits with hash browns, or sweet onion scrambled tofu with sweet potato rounds and corn bread.
After a day of hiking and swimming in the White River, you'll be hungry for the Sweet Onion Inn's bean-and-rice burrito cake with fresh salsa, red pepper salad, and tomato-corn soup. Or try the inn's lentil rice patties, served with fresh salad, lentil soup, and mashed potatoes with mushroom gravy. With so many amazing entrées to choose from, you might need to extend your stay just to try all of them. Check out Jenna Jordan's famous lentil soup recipe here!
Squeal With Delight at the White Pig Bed and Breakfast
The White Pig B&B at Briar Creek Farm in Schuyler, Virginia, is a perfect weekend retreat for D.C. residents and road warriors who want a comfortable place off the beaten path.
Innkeeper Dina Brigish left a successful career in the fashion industry to enroll at the Natural Gourmet Cookery School in Manhattan. She looked beyond the Big Apple to find a place where she could offer sanctuary to rescued animals while allowing her vegan culinary creations to wow others and show them how delicious and satisfying vegan cuisine can be. She found it at Briar Creek Farm, which is also home to rescued pigs, dogs, and cats.
The food is extraordinary. Breakfast includes homemade waffles, chocolate-chip pancakes, and frittatas. Here are two of Dina's scrumptious recipes to try at home.
Chez Philippe
Chez Philippe is a new Bed & Breakfast located less than a 10-minute walk from the Papineau Metro station, and from there, it's just a few stops away from downtown Montréal.
Chez Philippe has newly decorated rooms and a large terrace where guests can relax in the summer and offers full home-cooked vegan breakfasts that even nonvegan guests rave about.
For additional information, please check the Web site at www.ChezPhilippe.info.
Chez Philippe
2457 rue Sainte Catherine Est
Montréal, Quebec, H2K 2J9
Canada
Recipes
Vegan Blueberry Pancakes
2 cups of organic unbleached white flour
2 cups vanilla soymilk
3 Tbsp. Sucanat (unrefined vegan sugar)
3 T. Rumford's (no aluminum) baking powder
1 t. sea salt
3 Tbsp. canola or safflower oil (optional)
1/2-cup of frozen organic blueberries
1/2-cup fresh organic blueberries
Combine all dry ingredients in a bowl. Sift dry ingredients. Add soy milk and oil. Mix until batter is smooth.
On a hot pancake griddle, ladle batter onto grill. Add frozen blueberries. Bake for 2 to 3 minutes on each side.
Serve with fresh blueberries.
Lentil Pate
3 medium onions (diced)
2 cloves garlic (minced)
3 Tbsp. olive oil
1 cup dried lentils
2 cups water
2 cups walnuts (toasted)
1 strip kombu (sea vegetable available at health food and Asian stores)
1 Tbsp. miso paste (available at health food and Asian stores)
1 Tbsp. umeboshi paste (available at health food and Asian stores)
1 Tbsp. fresh basil, chopped Put lentils, water, and kombu in a medium pot and bring to a boil. Lower to a simmer for about 15 minutes, or until lentils are cooked.
Toast walnuts on a baking sheet in the oven at 350°F for about 10 minutes (or until toasted).
Sauté the onions and garlic in the olive oil.
Place the toasted walnuts in a food processor and process until smooth. Add the sautéed onions and garlic, cooked lentils (with the kombu removed), miso, umeboshi paste, and basil and purée until smooth.
Chill about 2 hours before serving.