After sifting through touching rescue stories and photos of rescued turkeys, we've selected the winner.
While we recognize that every turkey in our competition is worthy of this noble title, only one bird can win! The Turkey of the Year contest winner is … drumroll please … Jake from Oak Ridge, North Carolina!
Jake was rescued by Red Dog Farm from a roadside zoo. Severely neglected, he had nearly died. Jake was very sick when he arrived at the farm—he did not move or eat for almost two weeks. But with the rescue group's care, he made a full recovery. Jake is a wonderful, gentle soul with great presence. He is well loved and now has a forever home.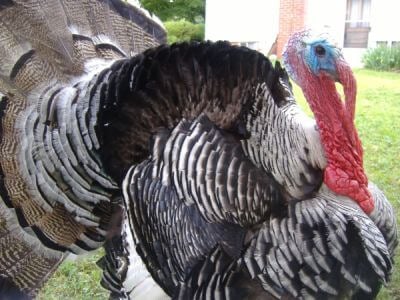 More than 45 million turkeys are killed each year for Thanksgiving and more than 22 million are slaughtered for Christmas so that they can be the centerpiece of a holiday meal.
These gentle, intelligent birds deserve to live out their lives in the wild or at sanctuaries, but most turkeys spend their lives in filthy conditions on factory farms before they're slaughtered. Only a lucky few like Jake are ever rescued from these horrific conditions.
If you've never rescued a turkey, you can still help give animals a reason to be thankful by going vegan. Be sure to share this with your loved ones to encourage them to spare a turkey, not eat one.
Congratulations, Jake!
See our runners-up below:
Name: Tomas
Location: Foster, Rhode Island
Brief Description: Tomas came to his guardian, Pam, while she was assisting local animal control. Unsure of Tomas' fate otherwise, Pam decided to take him in. Tomas had been moved from home to home at least three times before Pam intervened, but he has now found his forever home and is surrounded by new friends who love and care for him.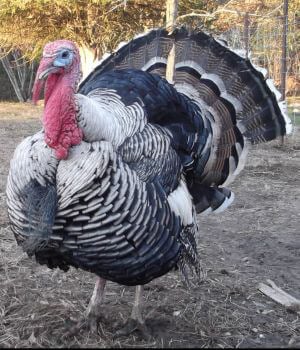 Name: Dale
Location: Mendon, Massachusetts
Brief Description: When Dale was just a chick, he was rescued by a turkey farm worker. He became a companion to another chick, Daphne, who had also been rescued by the worker because she had deformed feet. When the pair became too large for the worker to care for, they were given to Maple Farm Sanctuary. Dale and Daphne are now living happily together in a forever home.