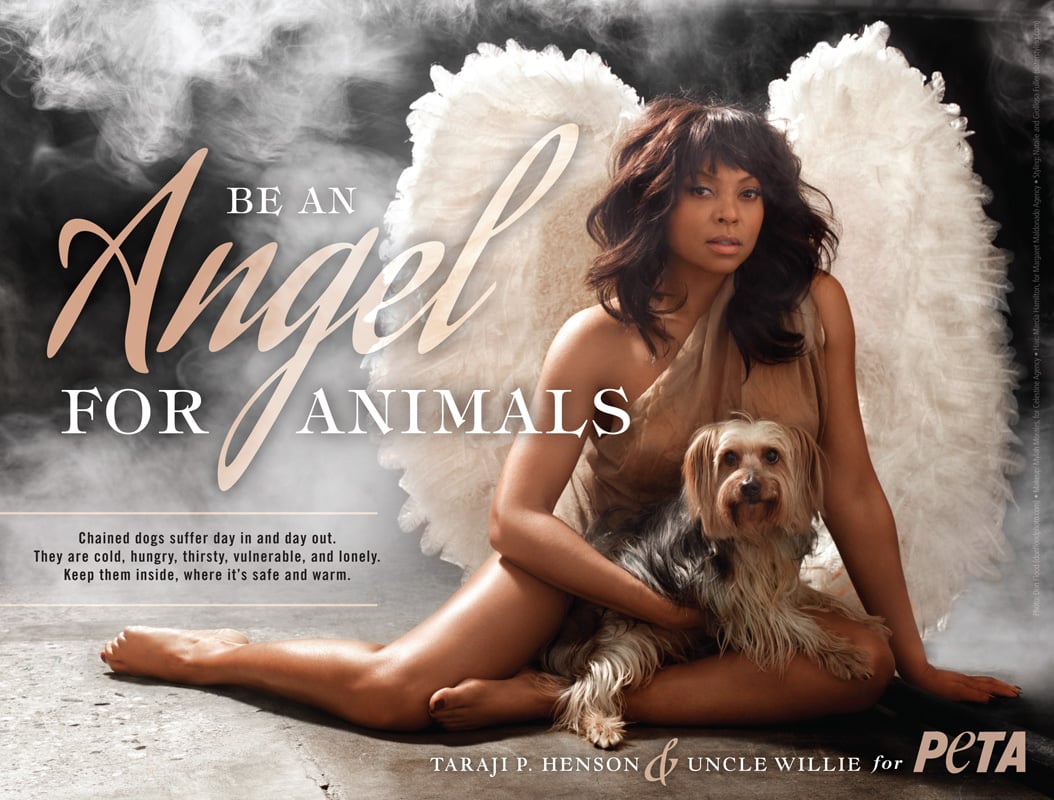 Academy Award nominee and star of FOX's Empire Taraji P. Henson is taking a personal interest in helping dogs that spend their lonely days and cold nights at the end of a chain. Taraji—who stars in a new PETA ad with her beloved canine Uncle Willie—wants to encourage people to bring their dogs indoors, where they will be safe and warm. Taraji makes an undeniable claim, saying, "Dogs, to me, are like children. They are the closest thing to God. They are so pure in their love, and all they do is aim to please." In addition to having their emotional and social needs completely ignored, dogs who are forced to live at the end of a chain are often deprived of adequate food, water, and veterinary care. They are vulnerable to cruel people and other animals and rarely have sufficient shelter to shield them from harsh weather extremes. Chained dogs are also much more likely to be aggressive and to attack—endangering children and the public at large—if they break free. Chaining is arguably one of the cruelest things that you can do to an animal who wants and deserves nothing more than to curl up at your feet at night, greet you with a happy face, and be a part of your family.
In her previous ad, Taraji urged people to be comfortable in their own skin and let animals keep theirs. She is already an angel for animals, but in this ad, shot by famed photographer Don Flood, she has the wings to prove it.
In this behind-the-scenes video, Taraji tells you how you can help dogs forced to live at the end of a chain and how PETA is helping to get a roof over their heads. Watch and see how you can be an angel for animals.
Join Taraji and make a difference for dogs forced to spend a life of loneliness and neglect at the end of a chain. There are many steps that you can take to help individual dogs—or you can help an entire community of dogs by contacting your local government.
Complete the form below to sign up for PETA text messages about local events, news, contests, and other ways that you can join Taraji in celebrating the joys of companion animals, such as by saving a life and adopting from your local animal shelter.
By submitting this form, you're acknowledging that you have read and agree to our privacy policy and agree to receive e-mails from us.