Surfing is about so much more than just raw talent. Learning to connect with Mother Nature—by working with the waves, not against them—is key. Being physically fit and mentally sound doesn't hurt, either. That's why it's no surprise that so many surfing greats are opting to go vegan. Take a look at the lineup below, and find out how you, too, can ride the compassionate wave.
Kelly Slater
Earlier this month, Kelly Slater—one of the greatest surfers of all time—agreed to participate in a two-week vegan challenge with PETA to kick off the New Year. Now, nearly four weeks later, he's still going strong. "Been vegan nearly a month now. Feeling good. Much better digestion and variety of healthy foods eating this way," he recently wrote on Instagram.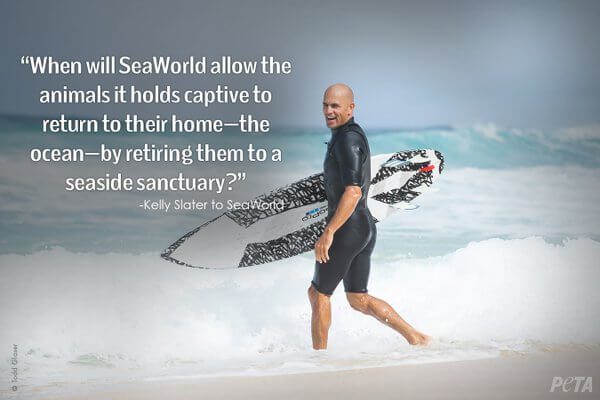 In a video made last year, Slater answered the question "Have you ever thought of going vegan?" He responded that he's "working [his] way in that direction," mentioning that the benefits to the environment and his own health are undeniable. In the video, the 11-time world champion revealed, "I haven't had milk for probably 20 years now." Those who follow him on Twitter and Instagram know that he's long been opposed to consuming milk, cheese, and other animal-derived foods.
John John Florence
John John Florence is taking the surfing world by storm. In 2016, he clinched his first World Surf League (WSL) world title in Portugal and went on to become the 2016 world champion. Last month, he did it again—winning back-to-back world titles. So what gives him his competitive edge? Turns out, it could be a plant-based diet. During a post-heat interview, he said, "I've become increasingly aware of food and its effects on the human body. All signs point to the idea that a plant-based diet is far superior to that of high animal-product intake."
Want to shred like Florence? Outside shares a tip: According to the magazine, he starts his day with a smoothie containing "plant-based protein powder, hemp seeds, chia seeds, frozen mixed berries, celery, kale, half a banana, and maca powder." Check out our list of plant-based protein powders, and start your mornings just like this pro.
Tia Blanco
Four years ago, pro surfer Tia Blanco—a vegetarian since birth—decided to go vegan, and she's never looked back. Last year, she told the WSL, "I went vegan for the animals. I love them all and I don't want to eat my friends." She's currently ranked in the top 50 female surfers in the world by the league, and she credits much of her recent success to being vegan. She says that she has lost fat, has gained muscle, and has more energy. Since making the switch, she's starred in multiple peta2 ads and even launched her own vegan-cooking YouTube channel and Instagram page.
She also just earned the Most Animal-Friendly Athlete award after starring in a peta2 pro-vegan campaign and sharing in multiple interviews why she's so passionate about being vegan. "I love animals too much to contribute to … suffering," she told Teen Vogue. "From an environmental standpoint, animal agriculture is the leading cause of species extinction, ocean dead zones, water pollution, and habitat destruction."
Alana Blanchard
If you follow Alana Blanchard on social media, chances are you already know that she's a proud vegan. She's one of the most popular female surfers in the world, and she isn't shy about flaunting her compassionate lifestyle. "One of the reasons I am vegan is because I love animals so much and could never even imagine hurting one," she posted on Facebook. She even took to Instagram to explain how being vegan throughout her pregnancy helped her feel better than ever:
Follow her on Instagram and Facebook for more vegan-surfer inspiration, like live videos of the new mom making vegan lunches and cruelty-free brownies.
Jack Freestone
If Blanchard is the queen of animal-friendly surfers, Jack Freestone is the king. He's Blanchard's longtime partner and a self-proclaimed "Vegetarian Instagram Model." Since his championship tour debut in 2015, the Australian native's skills have only improved—showing that you don't need to eat meat to be a fierce surfer.
And as if surfing's compassionate power couple couldn't get any cuter, he can't seem to stop sharing the love that he has for his "[b]aby mumma" on Instagram—like the time he posted this tribute to Blanchard during her vegan pregnancy, calling all women "the real life superheroes of this world." Cue the "awws."
Nikki van Dijk
Every vegan has a "why I went vegan" story. But pro surfer Nikki van Dijk's story is unlike anyone else's. In 2014, she hit a reef while surfing Cloudbreak in Fiji, resulting in 16 stiches and surgery. She had only a few weeks to recover before her next contest, so she temporarily went vegan to kickstart her healing. She told The Weekly Review, "After that I thought, 'Hang on, I do not need anything in my body that doesn't need to be there.'" With encouragement from her sister—who was already vegan—she went all in, and she says that she's never looked back and never felt better.
The Australian native frequently takes to Instagram to share photos of her World Vegan Day meals, outings with fellow vegan pro surfer Blanco, and birthday tributes to Blanchard—her "main vegan gal."
Dave Rastovich
According to ESPN, Dave "Rasta" Rastovich refuses to "eat anything with a mother or a face." But what he eats is only a part of his compassionate lifestyle. His respect for animals and the environment is well known. The former pro, turned free surfer, has been a prominent defender of dolphins for some time.
#daverastovich by #nathanoldfield so good. pic.twitter.com/WScdByTByy

— Lone Wolfs (@lonewolfsODS) July 18, 2017
In 2007, he led a group of celebrities, musicians, and fellow surfers on a peaceful paddle-out ceremony to honor the thousands of dolphins slaughtered each year at the notorious "killing cove" in Taiji, Japan. Paddle-out ceremonies are normally held for surfers who have lost their lives—but Rastovich made it clear that dolphins, who he says are "the original surfers," are equally deserving of the honor.
Rob Machado
Rob Machado is known for his enviable hair, goofy-foot surfing, and environmentalism. But he credits his vegetarian upbringing with his interest in the relationship between animals and the environment. He told Tracks, "I was raised a vegetarian so I was always aware of [environmental] issues. There wasn't a whole lot of vegetarians around in the 80s—so we were ahead of the curve in that way." Now, he uses his influence to challenge manufacturers, companies, and the surfing industry as a whole to become more eco-friendly.
When he's not out in the ocean or saving the Earth, he can likely be found enjoying one of his favorite meals—açaí bowls.
Anna Ehrgott
"Surfer" is only one of many titles that you'll find associated with Anna Ehrgott's name. She's also a photographer, board-bag maker, world traveler, and—oh yeah—mindful, compassionate eater. "I am extremely conscious of what I eat. I could never kill an animal for my own consumption so I can't justify paying someone else to do it for me," she told Andy+, adding that "[d]airy makes no sense … from any perspective."
Her company, Sagebrush Board Bags, is just as conscientious, featuring surfboard bags made from recycled burlap sacks—equal parts eco-friendly, cruelty-free, sturdy, and stylish.
Get on Board With Compassion
Slater said it best: "I think when a surfer becomes a surfer, it's almost like an obligation to be an environmentalist at the same time." We couldn't agree more. These animal-friendly surfers are living, breathing proof that you can eat compassionately and still be a kick-ass athlete. Click the buttons below to join Slater, Blanco, and the rest of this compassionate lineup:
Published  by Katherine Sullivan.