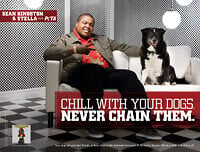 Sean Kingston has been blowing up the airwaves and climbing music charts with his hits like "Beautiful Girls," "Fire Burning," and "Face Drop." This hitmaker poses with his furry friend Stella in an ad for PETA that reads, "Chill With Your Dogs. Never Chain Them."
Sean loves dogs and encourages his fans to think of them and treat them like members of the family. Dogs are social pack animals who crave and deserve companionship. The practice of chaining dogs is one of the cruelest things that you can do to an animal who wants nothing more than to be scratched behind the ears and to curl up at your feet at night. Dogs who are chained often fall victim to attacks from other animals or cruel people and can injure themselves by getting tangled in their chain. These dogs often suffer from a number of illnesses as a result of exposure to extreme weather, and many become vicious from constant confinement.
Be sure to care for your dog properly and give him or her plenty of love and affection, including walks and belly rubs.
Check out behind-the-scenes footage from Sean's photo shoot and hear him speak about his own dogs and why being a good animal guardian is so important to him.
Join Sean in being a responsible animal guardian, and chill with your dogs—never chain them. If you want to follow Sean's lead and make a positive difference in dogs' lives, check out our tips and work with local legislators to ban chaining in your community once and for all.
Visit Sean's MySpace page to see when he'll be coming to a city near you!