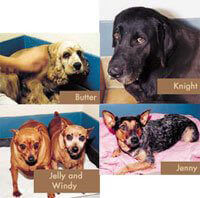 Just weeks after PETA's investigation of Nielsen Farms revealed tiny, filth-encrusted cages and sick dogs with raging ear infections, disfiguring mange, and open, untreated wounds, the Kansas puppy mill closed its doors, leaving one fewer dilapidated breeding farm to supply the pet trade industry. The U.S. Department of Agriculture also charged the farm's owners with violations of the federal Animal Welfare Act. But the victory was bittersweet.
Nielsen's owners did not even try to find homes for hundreds of the dogs they had profited from. Instead, they abandoned them to an uncertain fate on the auction block. PETA was there, committed to saving as many dogs as we could. Neighbors looking for a companion, other puppy mill operators, and laboratory animal dealers were there, too, wandering around the auction tent and filling the bleachers. The dogs, who had rarely been out of their small cages, barked frantically at the commotion or cowered and shivered.
By the time the puppies are shipped to pet stores, many are suffering from parvovirus, ear infections, bronchial illness, and serious congenital health conditions. People who pay big bucks for puppies at pet stores often find that they must pay thousands more for veterinary care. Dogs from puppy mills often have hip deformities, epilepsy, vision or hearing problems, and other conditions that cause pain and shorten their lives.
One by one, the frightened dogs were brought out and plopped on a table to face the semicircle of strangers, and the bidding began. "This is a '98 model," the auctioneer joked. The petrified dogs hunched into balls, trying to make themselves as small as possible.
Our investigators bid on older, unwanted dogs against people who they feared would sell the dogs to laboratories. The nine dogs whom we purchased shook pitifully when they were claimed. In their entire lives, they had seldom if ever known a kind word or affectionate touch. They couldn't know that the two "PETA people" who gently lifted them into a waiting van were taking them to a safe place.
The destination was a luxurious San Francisco animal shelter whose director had kindly volunteered to socialize the refugees. Each dog had a secure and comfortable crate in the van, and our staff stopped frequently to give them water and let them stretch their legs. Sadly, the dogs didn't even know how to take a walk—a "luxury" they'd never known at Nielsen, having lived in wire cages their whole lives.
Butter, Linda, Ace, and the other dogs were quiet as mice as the trip began. When their rescuers tried to touch them, they were too frightened to accept it. But slowly, the dogs began to trust. They learned to wag their tails and eventually would sit still for gentle scratches behind the ears. By journey's end, Jenny, an Australian shepherd mix, even rolled over on her back for a tummy rub.
At the spacious shelter, kind employees took over. During the health checks, our worst fears were realized when we learned that two of the dogs were very ill with heartworms and other serious problems. Some of the dogs were placed in foster care to help them adjust to living with a family. Eventually they were placed in loving homes.
Does your local pet store keep the ugly puppy-mill business prospering? Thousands of dogs like Butter are unloved, lonely, and sick because unsuspecting consumers are buying their puppies in malls and stores instead of going to local animal shelters. Help make a difference by never buying from a breeder or a pet store. To learn more, visit our ABC campaign page.