There's nothing more versatile than a sandwich. Appropriate for just about any season and meal, you can throw together a sandwich for a quick and easy lunch or dress it up as dinner's delectable main course. With so many different options for the fillings, condiments, and types of bread, the combinations are endless—no two sandwiches need be alike! Because August is National Sandwich Month, we've compiled a list of our favorite vegan sandwiches from across the U.S. Feast your eyes on PETA's top picks, and don't be surprised if your tummy starts to grumble.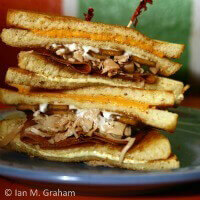 In Richmond, Virginia, tempt yourself with Strange Matter's The Revenge, which features vegan ham, jackfruit, and tempeh bacon stuffed between two—not one but TWO—grilled cheese sandwiches! The luscious balance of tasty faux meats, sweet jackfruit, and creamy vegan cheese will rock your world.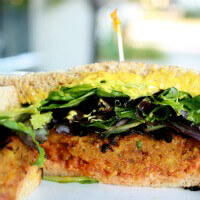 Marie Catrib's of Grand Rapids, Michigan, calls its Sweet Potato & Quinoa Burger its "darling of the restaurant!" Loaded with sweet potatoes, quinoa, onions, cilantro, almonds, and spices, and a pickle spear on the side, this huge and hearty dish comes with your choice of homemade bread and satisfies even the most voracious diner—meat-eaters included! (All 11 homemade bread options are vegan except for the Challah.)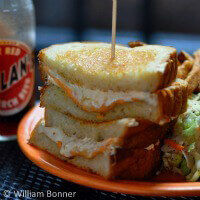 Specializing in gourmet grilled cheese sandwiches, Melt offers a wide variety of melts, many of which can be made vegan upon request. The next time that you're in Ohio near the Cleveland area, stop at Melt's Lakewood or Cleveland Heights locations and reminisce about your childhood over The Kindergarten, which can come with either cheddar or mozzarella style vegan cheese. Other awesome veganizable options include the Spinach Pie, the Mushroom Melt, and the Firecracker Chicken (just ask for them to be made vegan!).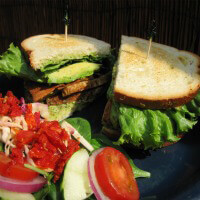 If pesto and avocado make you swoon, head to The Remedy Diner in Raleigh, North Carolina, for the Tempeh Tantrum. This flavorful combination of marinated tempeh, homemade vegan pesto, vegan bacon, avocado, and lettuce on sourdough will satisfy your meanest "green" cravings—especially when you round out your meal with a slice of vegan key lime pie!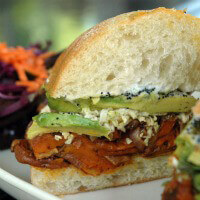 At Sugar Plum Vegan in Sacramento, California, the mouthwatering Garnet Yam & Avocado Panini comes stuffed with tomatoes, roasted onions, and vegan poppy seed aioli on ciabatta bread. Boasting an all-vegan café, bakery, and catering company, Sugar Plum is the compassionate foodie's dream for any type of dining experience, whether you're searching for a quick and casual lunch or a sophisticated and innovative wedding menu.
Our Honorable Mentions
Devine Pastabilities
Voted the Best Sandwich Shop in San Diego, Devine Pastabilities is famous for its signature Torpasta dishes: perfectly toasted garlic rolls filled with Italian ingredients. Try the Veggieball, which is stuffed with spaghetti, meatless meatballs, and marinara sauce.
Blossom Du Jour
Looking for a delicious sandwich in NYC? Check out the vegan to-go restaurant, Blossom Du Jour. Order the Midtown Melt, which is made with Cajun spiced seitan, vegan cheese, agave guacamole, lettuce, and chipotle aioli.
Vita Café
If you're in the mood for a savory breakfast sandwich, look no further than Vita Café in Portland, Oregon. Request tofu and vegan cheese on your Sloppy Biscuit Sandwich, which also comes with faux turkey and gravy between a vegan biscuit and is served with your choice of potatoes or brown rice.
Now tell us about your favorite vegan sandwich and why you think it's so special!