Nina Davuluri, Miss America 2014, celebrated her historic win as the first Indian-American to wear the crown by teaming up with PETA. Since "celebrating diversity" was her winning platform, she wanted to apply that same message to homeless dogs by urging people to adopt a mutt from an animal shelter. Nina knows the joy of having a mutt herself, a beloved 13-year-old dog named Hanuman, whom she describes as "half retriever, half question mark," and the dog in the ad with Nina was rescued from the streets of India!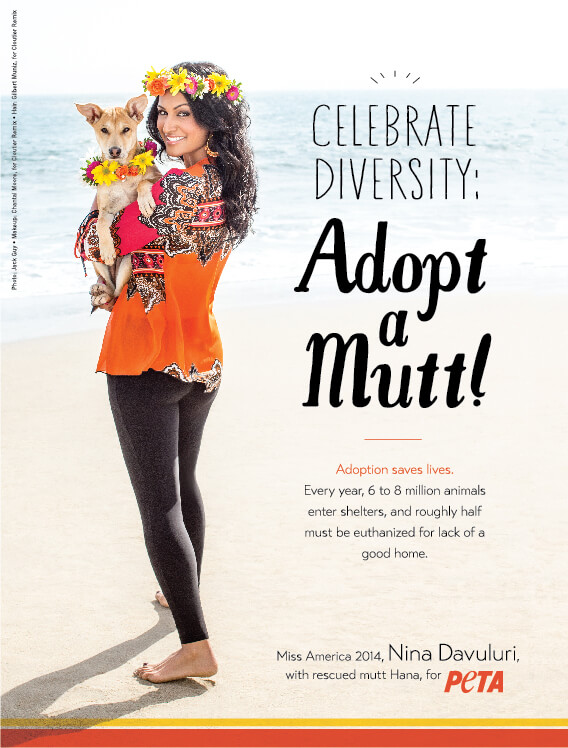 Are you ready to add a companion animal to your home? Take Nina's advice: Always consider adoption. Head over to your local animal shelter, where you're sure to find numerous eager mutts of all ages who would love to become a member of your family!
Every time an animal is purchased from a pet store or a breeder, an animal in a shelter loses the opportunity to find a loving home.
Watch the exclusive behind-the-scenes interview and see Nina talk about the love that she has for her mutt and the importance of adopting animals from shelters!
Complete the form below to sign up for PETA text messages about local events, news, contests, and other ways that you can join Nina and celebrate both the diversity of mutts and saving a life by adopting from your local animal shelter.
By submitting this form, you're acknowledging that you have read and agree to our privacy policy and agree to receive e-mails from us.