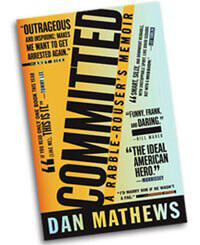 Committed, the outrageous and critically acclaimed memoir by PETA Senior Vice President Dan Mathews, is available in bookstores nationwide. You'll find it in the biography section between "Steve Martin" and "Matisse"!
The Washington Post raves that Mathews lets "personal, gossipy, often hilarious anecdotes illuminate hot-button issues." Lily Tomlin adds that Committed is "[s]mart, silly, and downright readable …. Like David Sedaris but with a mission."
You can order the book from the PETA Catalog!
Want to drop Dan a line? Visit his MySpace page for news and notes.
Review From Publishers Weekly
"Having grown up poor and gay, with a penchant for punk rock and Lawrence Welk, Mathews, who is now campaign chief for People for the Ethical Treatment of Animals, had a rough start. But his camp, cosmopolitan, and crass memoir is like a life lesson from the Island of Misfit Toys: a study of the unwitting heroism and adventures of an outsider dedicated to a cause …." Click here to read more.
What People Are Saying About Committed
"Smart, silly, and downright readable, with unstoppable spirit. Like David Sedaris but with a mission." —Lily Tomlin
"Funny, frank, and daring." —Bill Maher
"The ideal American hero." —Morrissey
"Outrageous and inspiring; makes me want to get arrested again." —Andy Dick
"If you only read one book this year (like me), this is it." —Tommy Lee
"Hilarious! Reads like James Bond on acid, with freaky costumes, police chases, jet-set intrigue, and a kick-ass sense of justice." —Pink
"You can't get much of a closer look at PETA's inner workings than when you work your way up from receptionist to senior vice president of media campaigns and when your first week on the job consists of being called to a government office to help with a 100-person sit-in, and that's what happened to Dan Mathews, who tells his and PETA's story in this compelling, funny book." —Ingrid Newkirk