The ladies of the Lingerie Football League (LFL) are some seriously tough cookies. The LFL's games, which air on MTV2, feature full-on contact football. These bombshell athletes teamed up with PETA to use their fame and fit figures to show the world that fur should be permanently cut from the roster.
They jumped at the chance to draw attention to the millions of animals who are abused and killed for their skins each year. PETA's ad shows these beauties posing on a football field in their famous lingerie uniforms and features the headline "Tackle Cruelty: Bench Fur."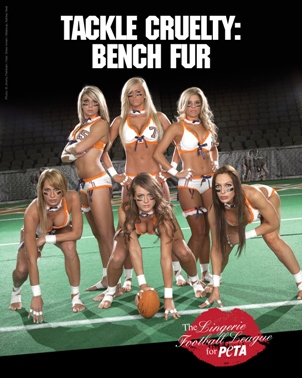 Click here to see a naked behind-the-scenes photo from the shoot!
On fur farms around the world, chinchillas, foxes, minks, raccoons—and even dogs and cats—suffer from the time they are born until their final breath. Many people are shocked to learn that fur farms use the cheapest and crudest slaughter methods available, including bludgeoning, gassing, and anal electrocution.
"Playing in the Lingerie Football League … [has] given us an opportunity to have a voice and just tell people [to] be informed …. Take a stand … just don't go through life day by day."
Watch PETA's exclusive interview with the ladies of the LFL's Chicago Bliss to learn why you'll never catch these ladies in fur.
https://www.youtube.com/watch?v=XYmw2XgpW4o
Join the ladies of the LFL in helping to prevent animal abuse by pledging to be fur-free.