A glue trap is a small board made of cardboard, fiberboard, or plastic that's coated with a sticky adhesive. It can ensnare any small animal who wanders across or lands on its surface. Animals trapped in the glue panic and struggle, which causes them to become even more helplessly stuck. Often, the glue tears off their fur, feathers, or skin. Some break bones or even chew off their own limbs in a desperate attempt to escape.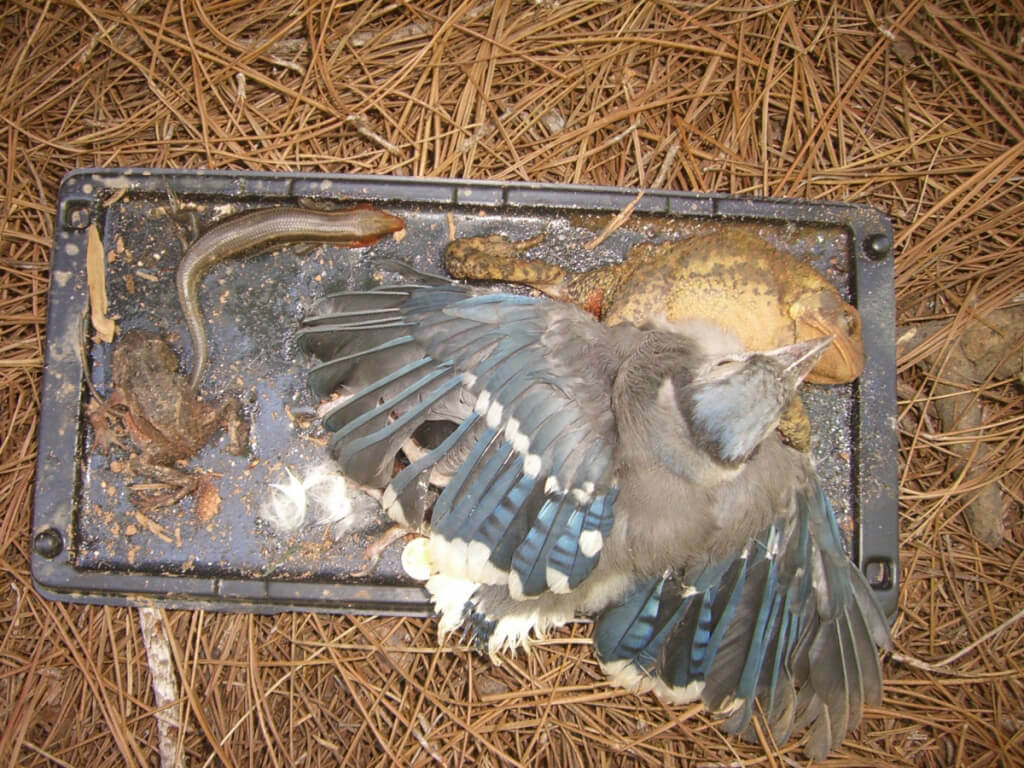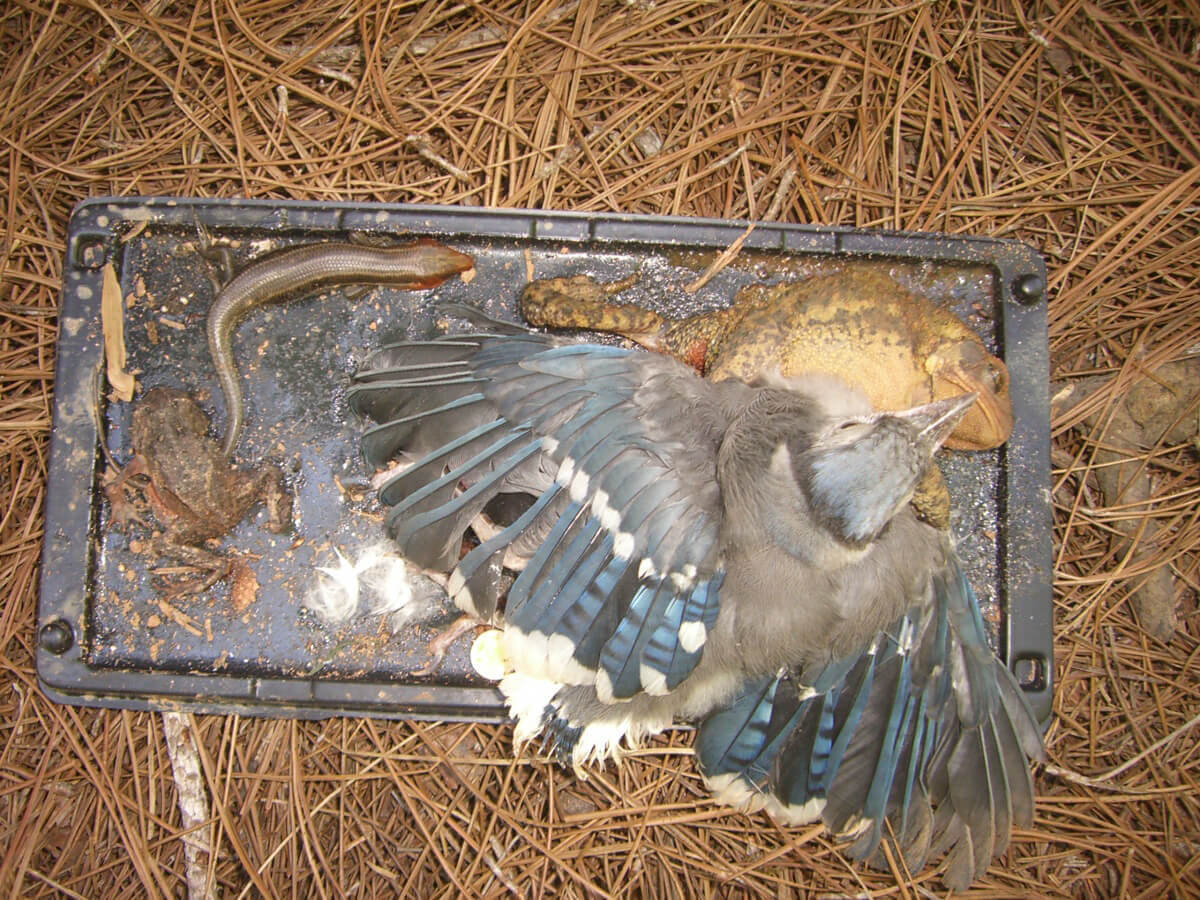 Bans on glue traps, most recently in West Hollywood, California, help animals—including mice, squirrels, and birds—who may endure slow, agonizing deaths after being caught in these inhumane devices.
Nearly all 28 Indian states and eight Union territories have joined Norway, the Netherlands, Germany, England, Iceland, Ireland, New Zealand, Wales, and two states and one territory in Australia in banning glue traps.
In addition to the countries that have already banned glue traps nationwide, others are catching on by passing partial bans or other restrictions on their use.
France banned the use of glue traps to hunt birds; in Australia, the Australian Capital Territory, Tasmania, and Victoria banned the traps; and the U.K. has proposed a ban on them.
Well-known companies and institutions—including JPMorgan Chase & Co., American Eagle Outfitters, more than 100 airports nationwide, and even the New York City Police Department—have also sworn off vile, unsanitary, and ineffective traps.
Massive corporations such as Rite Aid, Dollar General, Family Dollar, Dollar Tree, Dollar Tree Canada, Target, and Walgreens have stopped selling them. But others have not yet done so.
The following entities don't use glue traps:
1st American Storage (American Spectrum Realty)
A-1 Self Storage
A-AAAKey Mini Storage
Adelphi Theatre
Advanced Micro Devices
Albuquerque International Sunport
Aldwych Theatre
Al Hirschfeld Theatre
Allegheny County Airport
Ally Financial
American Eagle Outfitters
Ameriprise Financial
Amsdell Companies
Arizona Department of Administration
Arizona-Sonora Desert Museum
Athleta
Atlantic City International Airport
Auditorium Theatre
August Wilson Theatre
AvalonBay Communities
Baco Realty (Security Public Storage)
Balboa Theatre
Banana Republic
Bank of America
Bank of New York Mellon
Bank of the West
Bell Partners
Billy Bishop Toronto City Airport
Block Island State Airport
BMO Harris Bank
BOK Financial
Bolton Field Airport
Books-A-Million
Boston Logan International Airport
Boston Marine Industrial Park
Bowman Field
Bradley International Airport
Branch Banking and Trust Company
Buck or Two Plus!
Buffalo-Niagara International Airport
BWI Marshall Airport
Cadillac Palace Theatre
Camden Property Trust
Carroll County Public Schools, Maryland
CBS New York
Centennial Hall
Central Technical School, Ontario
Cerner Corporation
Charles B. Wheeler Downtown Airport
Charles Schwab
Charlotte Douglas International Airport
Chicago O'Hare International Airport
Chicago Midway International Airport
Chicago Transit Authority
CIBC Theatre
Cincinnati/Northern Kentucky International Airport
Circle Centre, Indianapolis
CIT Group
Citigroup
Citizens Financial Group
City National Civic of San Jose
City National Grove of Anaheim
City of Cartersville, Georgia
City of Eugene, Oregon
Claremont Graduate University, California
Comerica Inc.
Compass Group North America
Compass Self Storage
CubeSmart
CVS
Dade-Collier Training and Transition Airport
Dallas/Fort Worth International Airport
Dallas Executive Airport
Dallas Love Field Airport
Danielson Airport
Delaware North Companies Parks and Resorts (Sequoia National Park)
Denver International Airport
Dillingham Airfield 
Doc's Drugs, Ltd.
Dolby Theatre
Dominion Theatre
Durham Performing Arts Center
Eagle Creek Airpark
Eastern Virginia Medical Center
Ellington Airport
Eppley Airfield
Eugene O'Neill Theatre
Extra Space Storage
ezStorage
Family Dollar
Fashion Institute of Technology, New York
Federal Realty Investment Trust
Fifth Third Bank
First Horizon National Corporation
First Niagara Financial Group
Fort Lauderdale-Hollywood Airport
Gap
George Bush Intercontinental Airport 
Georgia Institute of Technology
Gershwin Theatre
Goldman Sachs
Google
Grand Haven Area Public Schools, Michigan
Great Value Storage
Greater Essex County District School Board, Ontario
Groton-New London Airport
Hana Airport 
Harrisburg Area Community College, Pennsylvania
Hartford-Brainard Airport
Hayward Unified School District, California
Henderson Executive Airport
Hendricks County Airport–Gordon Graham Field
Hillsboro Airport
Hilo International Airport
Hodo Soy Beanery
Hollywood Burbank Airport
Hollywood Pantages Theatre
Home Depot
Honolulu International Airport 
HSBC Holdings
Indianapolis Downtown Heliport
Indianapolis International Airport
Indianapolis Metropolitan Airport
Indianapolis Regional Airport
Intermix
Internal Revenue Service
iStorage
James M. Nederlander Theatre
Janie and Jack
Jean Sport Aviation Center
John C. Tune Airport
John F. Kennedy International Airport 
John Glenn Columbus International Airport
John Wayne Airport
Johns Hopkins University, Maryland
JPMorgan Chase & Co.
Kahului Airport 
Kaiser Permanente
Kalaeloa Airport
Kalaupapa Airport 
Kansas City International Airport
Kapalua Airport 
KeyCorp
Kimpton Hotel & Restaurant Group
Knox County Schools, Tennessee
Kona International Airport
LAACO (Storage West)
LaGuardia Airport
Lanai Airport 
Lehigh University, Pennsylvania
Le Moyne College, New York
Lena Horne Theatre
Lewisville Independent School District, Texas
Life Time Fitness
Lihue Airport 
Lincoln Property Company
Los Angeles County Museum of Art
Los Angeles International Airport
Louis Armstrong New Orleans International Airport
Louisville International Airport
Lunt-Fontanne Theatre
Manchester Boston Regional Airport
Marquis Theatre
Martin State Airport
Massachusetts Museum of Contemporary Art
McCarron International Airport
Memphis International Airport
MetLife, Inc.
Metropolitan Museum of Art
Miami International Airport
Miami-Opa Locka Executive Airport
Miami Executive Airport
Miami Homestead General Aviation Airport
Mid-America Apartment Communities
Millard Airport
Millennium Partners Sports Club Management, LLC
Milwaukee Mitchell International Airport
Minskoff Theatre
Minneapolis Institute of Art
Molokai Airport
Montefiore Medical Center, New York
Morgan Stanley
Morningstar Properties
Move It Self Storage
Museum of Fine Arts Boston
Nashville International Airport
National Gallery of Art
National Restaurant Association
Nederlander Organization
Nederlander Theatre
Neil Simon Theatre
New York City Health and Hospitals Corporation
New York City Police Department
New York Community Bancorp, Inc
Newark Liberty International Airport
Newport State Airport
Niagara Falls International Airport
Norfolk International Airport
North Central State Airport
North Charleston Performing Arts Center
North Las Vegas Airport
North Palm Beach County General Aviation Airport
North Perry Airport
Northern Arizona University
Oklahoma City Civic Center Music Hall
Old Navy
Ontario International Airport Authority
Page Field
Palace Theatre
Palm Beach County Glades Airport
Palm Beach County Park Airport
Palm Beach International Airport
People's United Financial, Inc.
Perkins Field
Peter O. Knight Airport
Phoenix Deer Valley Airport
Phoenix Goodyear Airport
Phoenix Sky Harbor International Airport
Pinnacle Family of Companies
Pittsburgh International Airport
Plant City Airport
Platinum Storage Group
PNC Bank
Port Allen Airport 
Portland International Airport
Portland-Troutdale Airport
Presidente Supermarkets, Miami
Prince George's County Memorial Library System, Maryland
Princeton Public Schools, New Jersey
Public Storage
Quonset Airport
Raleigh-Durham International Airport 
Regions Financial Corporation
Reno-Stead Airport
Reno-Tahoe International Airport
Richard Rodgers Theatre
Rickenbacker International Airport
Rio Management
Rogue Regional Medical Center, Oregon
Ryan Airfield
Safeguard Self Storage
St. James Theatre
San Diego Civic Theatre
San Diego International Airport
San Francisco International Airport
San Jose Center for the Performing Arts
San Jose International Airport
Siemens Brazil
Simon Property Group
Skyline Theater at The Long Center
Southwest Florida International Airport 
Sovran Self Storage (Uncle Bob's)
Starbucks Canada
State Street Corporation
State University of New York at New Paltz
Steven Tanger Center for the Performing Arts
Stewart International Airport
StorageMart
Strategic Storage Trust
Sun Loan Company
SunTrust Banks, Inc.
T.F. Green Airport
Tampa Executive Airport
Tampa International Airport
Teavana
Teays Valley Local School District, Ohio
Ted Stevens Anchorage International Airport
Temple Israel of Boston
Teterboro Airport
The Broadway Playhouse
The National Theatre
The Travelers Companies
Toronto District School Board, Ontario
Tractor Supply Company
Trump Taj Mahal
Tucson International Airport
U-Haul International
UnionBanCal Corporation
United Services Automobile Association
Universal Storage Group
University at Albany, State University of New York
University of California–San Francisco Medical Center
University of Washington, Seattle
Upolu Airport 
USA Drug (Stephen LaFrance Pharmacy)
U.S. Bancorp
U.S. Environmental Protection Agency
U.S. General Services Administration, Northeast Region
U.S. Postal Service
Van Nuys Airport
Vina Robles Amphitheatre
Virginia Beach Property Management Company
Virginia Museum of Fine Arts  
Waimea-Kohala Airport
Walgreens 
Walter Kerr Theatre
Waterbury-Oxford Airport
WCRE Group
Wells Fargo
West Hollywood, California
Westat
Westerly State Airport
Westport Properties (US Storage Centers)
William P. Hobby Airport
William Warren Group (StorQuest)
Windham Airport 
Winnipeg School Division, Manitoba
W.P. Carey
The following companies stopped selling glue traps:
Atlantic Superstore
The Bargain! Shop
Big Lots
Big W (part of Woolworths Limited)
Bloor Street Market
Box by No Frills
Bulkley Valley Wholesale
Buy-Low Foods
C&K Market
Casey's General Stores, Inc.
Choices Markets'
Coborn's Pharmacy
CVS
Doc's Drugs, Ltd.
Dollar Days International
Dollar General
Dollar Tree
Dollar Tree Canada
Dominion
Drugstore.com
Duane Reade
Extra Foods
Fagen Pharmacy
Family Dollar
FIELDS
Fortinos
Gelson's Markets
Giant Tiger
Home Retail Group
Independent City Market
JONS International Marketplace
Loblaws
Loblaws City Market
Louis & Clark Drug, Inc.
Marsh Supermarkets
Maxi
Maxi & Cie
Meinhart Fine Foods
Morton Drug Company
Morton Pharmacy
Natural Ginesis
Nature's Fare
Nesters Market
No Frills
Northern Tool + Equipment
Nugget Markets
Overwaitea Foods
PriceSmart Foods
Provigo
Publishers Clearing House
Pure Integrative Pharmacy
Quality Foods
QuikTrip
Real Canadian Superstore
Red Apple
Rite Aid
Rossy
Save-On-Foods
Save Easy
Sheridan Nurseries
Shop Easy
Shoppers Drug Mart
Shoppers Food and Pharmacy
Solway Feeders—U.K.
Target
Tools & Garden Ltd
TotalVac, Inc.
Urban Fare
USA Drug (Stephen LaFrance Pharmacy)
U.S. Dollar Store
Valu-mart
Walgreens
Walmart Canada
Your Independent Grocer
Zehrs
Don't Be a Bystander—Take Action Against Glue Trap Cruelty
If you ever see that glue traps are being used to capture and kill animals, contact those responsible, ask them to remove all traps immediately and pledge not to use them again, and then contact PETA.

Whenever you see glue traps being sold, send a polite letter to the store manager. Ask them to stop selling the traps and point out the many companies and entities that have already sworn off or pulled glue traps and opted for less cruel methods instead.
Glue Traps Are Inhumane, Dangerous, and Ineffective
The screaming of wildlife ensnared by glue traps is extremely upsetting to people who don't know how to "dispose" of these sentient beings. Left alone, the terrified, injured animals die, sometimes days later, of blood loss, shock, suffocation, or thirst. Or they die from being crushed in the garbage, which is where the instructions on the traps advise consumers to put them.
The U.S. Centers for Disease Control and Prevention warns the public not to use glue traps because they increase people's exposure to disease. Animals stuck in the glue continue to produce urine and feces, through which pathogens, including hantavirus, salmonella, and the bacteria that cause leptospirosis, are transmitted.
How to Humanely 'Get Rid' of Mice 
Glue traps are not a long-term solution for controlling "unwanted houseguests." When rodents are killed, the survivors breed faster, which causes an increase in the population! And the devices fail to address the source of the problem: If holes aren't plugged up and attractants aren't removed, more animals will move in to take the place of those who have been killed.
Pour a small amount of cooking oil or baby oil onto the stuck areas (avoiding the animal's nose and mouth to prevent suffocation) and gently work the animal free. Injured or weak animals must be rushed to a nearby veterinarian or wildlife rehabilitator. Note that it's illegal in the U.S. to use glue traps for wild-bird control, so if you see a bird caught in a glue trap, please immediately alert your state wildlife or local animal control officials.
This TrapStik is sold at other retailers in Ontario as well. If you have one please take it down and discard it. These story is so sad. These were beautiful little chickadees. Listen Live:CHFI.com

Posted by 98.1 CHFI on Monday, July 17, 2017
Take Action to End Glue Trap Sales
Thanks to caring consumers like you who have taken action, the list of entities that have prohibited using and selling glue traps is growing. Urge others to follow suit: