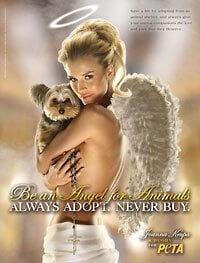 Joanna Krupa danced her way into America's hearts this season on ABC's Dancing With the Stars. She's made it clear that she would rather go naked than wear fur. Now, the internationally recognized model and actor can add "angel for animals" to her ever-growing résumé.
In her "Angel for Animals" PETA ad, Joanna urges people to always adopt and never buy animals from a pet store or breeder. Puppies sold in pet shops typically come from "puppy mills," where dogs are raised in cruel conditions and forced to live in tiny, filthy metal cages without any socialization or exercise. They lack proper veterinary care and are often abandoned by breeders. Plus, every puppy or kitten who is bought prevents an animal in an animal shelter from finding a home.
Click to see Joanna's other 'Angel for Animals' ad!
Joanna's four dogs inspired her to take part in PETA's "Angel for Animals" campaign. Here, she poses with her rescued pooch Rugby, and all the other dazzling doggies featured are rescues too! She knows that animals crave love and attention and should always be treated with kindness and respect. Animals depend on their guardians for food and water, walks, proper veterinary care, and affection.
See what else Joanna has to say about helping animals in her behind-the-scenes interview.