Nearly all of us can recall a first inkling or even a single moment when we came to the realization that animals have just as much right to live a life free of pain and cruelty as we do. The stories below are just a few of the many that PETA receives every day from our supporters.
We'd love to hear your own breakthrough moment. Please share your story with us, and be sure to check this page often for more new personal stories.
Andrea's Story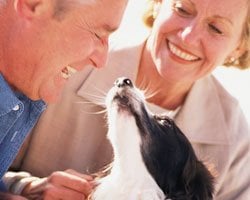 I know we often think of vegetarians as the college-age crowd. But I was over 40 when I had my revelation. I always loved animals; we had many dogs growing up. And I remember being horrified that my parents boiled lobsters for dinner. From the time I was young, I never ate fish or seafood. But it was so easy to disconnect from meat. Who knew? As an adult, I began volunteering in dog rescue. I always talked about how much I loved animals. After a while, having donated money to some rescue shelters and the like, I started to receive mailings from PETA. I couldn't believe what I was reading. It was so shocking. It didn't take long for me to start being repelled by meat. Finally, one evening I sat down at dinner and told my family—now, this is a husband, two teenaged sons, and a 13-year-old daughter—that we had to become vegetarians. Of course, some discussion followed, but from that night, we phased meat out and became vegetarians. One of the things that makes me proudest of my family is that they took very little convincing. A few years ago, my daughter and I led the charge to go vegan. I only wish it were as easy to make everyone understand why going veg is so important—for animals, for their own health, and for the health of the planet. It makes me so sad when my extended family talks about how much they love animals; I always correct them and say, "You love certain animals, but others, not so much!"
Jackie's Story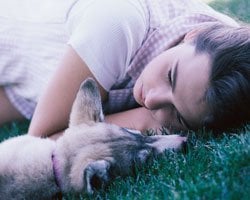 I had always been an "animal lover," growing up with dogs, cats, fish, and a horse, but my turning point really came during a bike ride. I was in high school and on a weekend bike ride with a few friends. We stopped along a fenced-in field where some cows were grazing on the other side. Out of nowhere, a small calf came trotting over to me and poked his head out between the rails. I petted him, looked into his eyes, and fed him some grass from my side of the fence, as the grass is always greener on the other side …. We finished our break and biked around the other side of the fields, and to my horror, I realized this "farm" was a slaughterhouse and that calf was being raised for meat. I was shocked. I rode home, tears streaming down my face the entire time. I knew I had to become a vegetarian, and the next week, I gave up meat and fish for good.
Fenisia's Story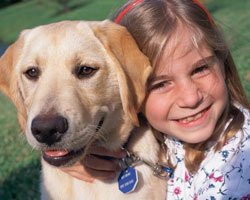 All my life, I had considered myself an animal lover. I grew up on a farm and always had cats, dogs, and horses. I took very good care of them, but I really didn't love all animals until Libbie came into my life. Libbie is part beagle and part rat terrier. She was going to be my outside dog and would stay in a pen. After all, animals were not supposed to be in the house. I was always told that they would be happier outside. But the first night I put Libbie in the pen, I heard her cry. I ran and got her and brought her into the house. Nearly seven years later, she is not only my house dog but also my best friend on the face of the Earth. From Libbie, I learned that all animals have hearts and souls and suffer all the same pain and heartache that humans do. Before Libbie, I loved only MY animals. After Libbie, I loved ALL animals.
Rebecca's Story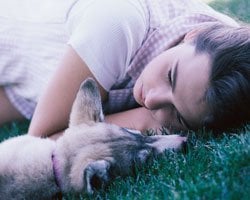 I have always loved animals. Even as a little girl, I used to feel terrible when I would see a stray. I became an activist when I discovered, in 1993, a dog in my neighborhood who was totally neglected. She lived outdoors, and even though she had a house, her food and water were frozen and her house was inadequate. I would come home from my walk crying. One day, my daughter told me that crying would not help the dog, and she called the police. At that time, I was not aware of the laws and organizations, so it took me two months to get the dog out of the home. (Now it would take me a few hours.) The village let me keep the dog, and it took my husband and me two years to get the dog to be normal. At first she was afraid of everything. She would shake when she heard a noise, and she would hoard food. Slowly, as she started to trust us, she became more social. Even her eyes changed. At first she had such sad eyes, and slowly she started having a different look—a happy look—and she started wagging her tail, barking (she had been afraid to bark), and just doing all the normal things dogs do. It was a delight to see her progress. It was then that I decided to become active in helping animals and started looking into organizations such as yours. I must add, the dog was a sweetheart and brought us a lot of love and joy. Brownie, as we called her, made me also realize that we are their voices—that without people's intervention, animals are totally helpless.
Paula's Story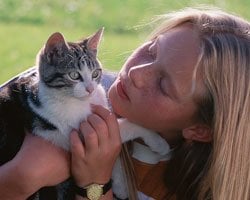 I truly fell in love with animals when, a year ago, I adopted my two kitties, Pawsi and Panther. They are so cute and beautiful that remembering that before they arrived at my kitchen door they lived on the streets makes me so sad. I love them so much that loving them has also had an impact on the way I see animals in general. I never thought about things like how important spaying/neutering is until I realized that my cats were not the exception but sadly the norm—that most cats usually end up on the streets, fending for themselves. I love my cats, and therefore I love PETA. I want to thank you for caring so much for animals. I do believe that there should be a humane way to treat all animals.
Brent's Story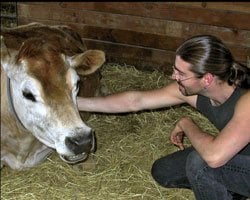 I was curious and looked up PETA on the Internet. I watched the video "Meet Your Meat," narrated by Alec Baldwin. I was devastated after watching this video. It made a believer out of me, and now I am a vegan and am trying to convert others to be as well. It was like a light illuminating a darkened room; I could see the truth, that animals are truly not ours to eat, not ours to experiment on, and that we must put an end to animal suffering. I have two Pekingese, who are spayed and neutered, and I take special care of these little creatures and honor them as if they were my children. I just couldn't imagine their ever having to suffer. So it makes me sick that farm animals as well as zoo animals and pets are being abused, neglected, and killed.
Tami's Story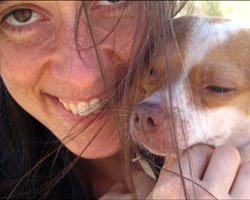 My epiphany was the Larry King Live show regarding the skinning of live dogs. To this day, my heart is broken, and I have made a commitment to animal rights. The PETA video of Chinese fur farms after the Larry King Live show changed me forever. It has been a heartbreaking yet rewarding journey. I would give my life if it would stop the cruel murders of these dogs. Each time I feel like giving up, I am reminded that they have no one to speak for them but us, and I will try once more.
Belinda's Story
I really got into animal welfare a few years ago when I found an injured pigeon outside a shopping center. I had to sneak it onto a bus to take it to the closest vet, because the park and wildlife people weren't interested in helping as the pigeon wasn't a native animal. When I told the people I knew about my disappointment with the park and wildlife service, I couldn't believe how many responded with "Well, it is just a pigeon" and made fun of me! It made me so mad that people could dismiss the suffering of an innocent creature simply because it wasn't a "native" or their pet. From then on, I decided that I had to treat all animals with the equal respect they deserve by being conscientious concerning what I ate, wore, and purchased. I want to thank the staff and volunteers at PETA for all the info they provide for people wanting to live animal-friendly lives.
Tara's Story
I remember that around 1979, when I was 30, I saw a film about leghold traps. The suffering was painful to watch and unforgettable. It really shocked me how we as humans could inflict such misery on innocent animals for something as unnecessary as fur. As time went by, I realized how many other industries cause pain and fear in animals, from rodeos and circuses to laboratories that do animal testing and slaughterhouses, and the list goes on. I gave up eating animals of any kind and feel very good about it.
Kristin's Story
When I first saw the "Meet Your Meat" video, it was like a veil was lifted and I could actually see the reality of what animals go through for people's greedy desires. No words can describe how I felt after watching this. I immediately had to become vegan. How could I ever contribute to these things? I was so ignorant before watching the video. If only I had been educated on these matters, then I would have been vegan from day one! I really feel that every person needs to be educated on the true practices of cruelty to animals. People don't think that eggs, dairy, leather, and wool are wrong. Education will make the difference. Somewhere on one of the PETA Web sites, I read the phrase "Live and let live," and that has really made an impact on me as well.
Now it's your turn. Tell PETA when you first fell in love with animals!