Wearing a jungle-themed cloth bikini reminiscent of Tarzan's Jane, Elisabetta Canalis poses with a snake by a lush tropical stream. The campaign proclaims, "Live Wild and Let the Wild Live. Don't Wear Exotic Skins."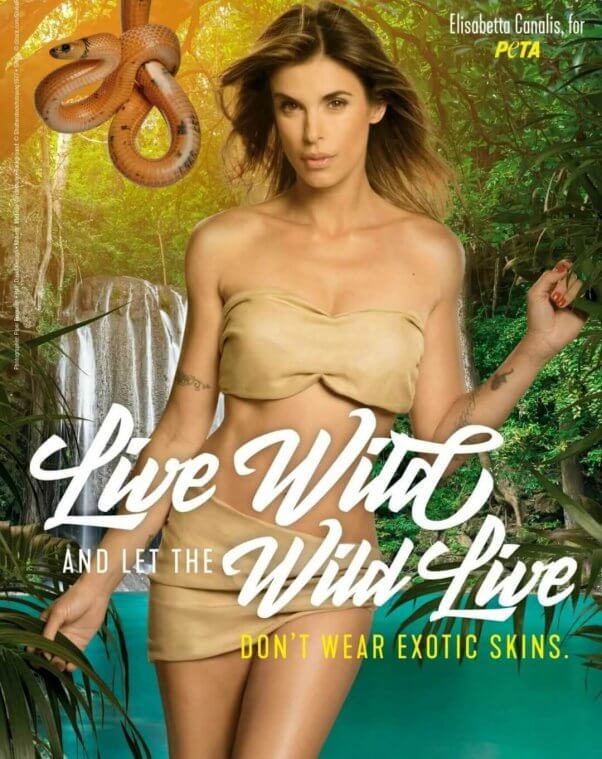 The Italian beauty is calling attention to the millions of snakes, lizards, alligators, crocodiles, and other reptiles killed for their skin for the fashion industry. Many of these animals are still alive when their skin is ripped off to make shoes, wallets, belts, and other accessories. They're tossed aside and struggle and writhe in pain for hours, even days, until they die. Others are stabbed or beaten to death. Elisabetta understands:
[T]hey do have feelings, and they do feel pain, and they don't want to become a handbag or a belt. They don't want to get killed.
In an exclusive video interview with PETA, she explains why she was eager to speak up for the reptiles killed for shoes and accessories:
PETA has exposed the appalling conditions in which alligators and crocodiles are raised and killed for "luxury" bags and watchbands. Alligators at a farm in Texas were kept in foul-smelling water inside dark sheds before their necks were hacked open and metal rods were shoved into their heads in an attempt to scramble their brains, often while they were fully conscious.
"There is no excuse to keep wearing these kinds of things. … Instead of reptile, exotic skin, just choose vegan skin. It's cheaper, and it's better for the environment, for the animals, and it's better for you." —Elisabetta Canalis
Elisabetta joins Taraji P. Henson, Eva Mendes, P!nk, Joaquin Phoenix, Alicia Silverstone, and many others who have teamed up with PETA to promote kinder wardrobe choices.By making kind choices, you can do your part to help animals whose lives and freedom are taken in the name of fashion.