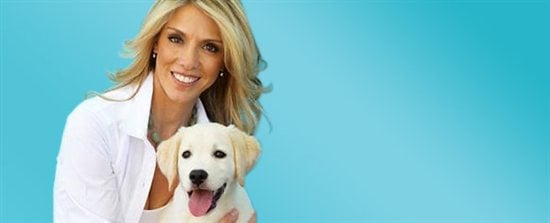 Famed dog trainer and behavioral expert Tamar Geller has teamed up with PETA for an exclusive series of videos to show dog guardians how to use positive coaching methods to give their dogs a healthy and happy life. Author of the New York Times bestseller The Loved Dog: The Playful Nonaggressive Way to Teach Your Dog Good Behavior and 30 Days to a Well-Mannered Dog, Tamar educates with kindness. Her revolutionary Loved Dog™ method is a playful, nonaggressive way to teach canine good manners.
Tamar's positive approach to dog training has made her popular with compassionate celebrities, and her long list of famous clientele includes PETA pals Oprah, Eva Mendes, Natalie Portman, and Charlize Theron. Oprah calls Tamar "a life coach for dogs and their people." Tamar recognizes that dogs are "amazingly sensitive, intuitive creatures with the remarkable power to transform the lives of the humans they touch." She explains, "I am devoted to capturing the individuality of each and every dog and celebrating the magic in them." Tamar's Loved Dog™ method builds a relationship based on games, clear communication, mutual respect, and fun. She also advises against several abusive yet often recommended dog-training techniques like painful prong collars and choke chains.
https://www.youtube.com/watch?v=vxQOuBZa3IY?list=PLV2RDOhiGtcRuxOwjKcb1dXNkum9Yj6uL
In her videos for PETA, Tamar outlines a dog's basic needs and teaches training techniques based on positive reinforcement, so you can build a relationship based on trust and love and give your dog the best life possible.