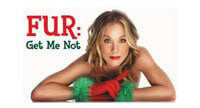 Christina Applegate has a special message for holiday shoppers: Real fur is about as nice as a lump of coal in a Christmas stocking! Encourage your friends to leave fur off their gift lists this season by sending them PETA's free e-card—then read our exclusive interview with Christina to find out why she's fur-free.
PETA: Have you always been against fur or was there a time when you didn't know any better?
Christina: When I was 6 years old, I had a little fur coat, but that was it. That's the only time I've ever had any in my life.
PETA: How did you become aware of the animal suffering involved in the fur trade?
Christina: When I became a vegetarian, I just started reading more and more about where fur comes from and what they do to the animals. It all went hand-in-hand together. That was when I was 15.
PETA: What prompted you to go vegetarian? Was there one incident?
Christina: I was eating lunch on the Married With Children set, and they served me some kind of meat (I don't even know the names of them all anymore because it's been so long). I looked down and there was blood on my plate, and it was that realization, that I can't eat something that has been alive, I just can't do it. So I stopped, and that was it. That was the last time.
PETA: Have you always had animals in your life?
Christina: Always, ever since I was a little girl, my house has been basically a zoo. Everything I have has dog hair on it, and that's just the way it is.
PETA: PETA does a lot of provocative things in order to keep people focused on important issues. How do you feel about that and about some of PETA's outrageous tactics?
Christina: I think it's great that you guys do that. I think that it's important—sometimes you do have to shout out to be heard.
PETA: We hope your ad will encourage people not to buy fur as gifts during the holidays, which we think should be a time for compassion and empathy toward others. Is there anything you'd like to say to people, with that in mind?
Christina: They make really great synthetic fur—you really don't need real fur. And it's cheaper, so why spend the money? The holidays are also a time when people freak out about their finances. If you don't want to spend the money, why not try some of the other options instead of killing a bunch of animals?