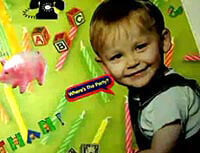 In October 2005, two dogs who had spent most of their lives chained outdoors fatally mauled 2-year-old Jonathan Martin in Suffolk, Virginia. As a result, Alice Conner courageously stepped forward in honor of her beloved cousin to record a public service announcement (PSA) about the dangers of chaining dogs.
"Jonathan loved dogs," Alice explains in the PSA. "He had no idea how dangerous chained dogs could be."
Alice and PETA agree: We must learn from these tragedies. "Keeping dogs chained up is dangerous," says Alice. "For your family's sake and for your dog's—please, never chain your dog."
After California enacted a law prohibiting the tethering of dogs for more than three hours per day, Alice asked Virginia legislators to consider a similar or stronger bill.
"It is too late for Jonathan and our family, but I feel that it's now my obligation to prevent similar tragedies in the future," she wrote to every state senator and delegate. "Will you please help me make Virginia safer for children and for animals by introducing legislation to restrict or altogether ban the continuous chaining of dogs?"
What You Can Do
Working with elected representatives to pass ordinances that ban or restrict tethering is the most effective way to help chained dogs. Make your community a safer place for both dogs and humans. Read the laws that other communities have passed, see what officials in those communities are saying, and get started on making changes in your own community!
It's easy to improve the life of a "backyard dog." In some situations, a quick call to law enforcement is all that's necessary. In others, it's up to you to build a relationship with the dog's guardian and get permission to visit and care for the animal. Every case is different, so carefully assess the situation before you get started.