Our feline friends might think they're as tough as Catwoman, but Gotham is full of perils for 15-pound balls of fur. Cats face countless dangers outdoors including cars, other animals, deadly contagious diseases, and cruel people who make The Joker look like Bozo the clown.
PETA routinely gets calls from people whose "outdoor" cats have been poisoned, shot, or tortured to death. In Florida, authorities found lost dogs and cats housed in a warehouse used by dogfighters. In South Dakota, a fur trader was caught selling the skins of cats he had trapped. In Washington, D.C., a cat who went out for her daily stroll returned home covered in hot grease burns.
So what do you do when your cat sits at the door and meows at you as if to say, "I think I'd like to go for a stroll"? Why not tag along?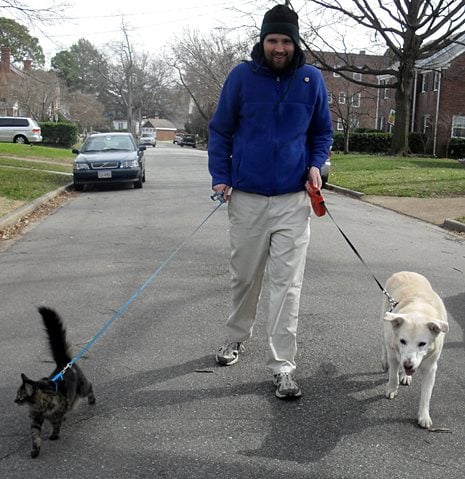 PETA staffer Chris "Vegan Fury" Holbein takes his morning constitutional with cat Brow Brow and dog Maggie.

There's no time like Be Kind to Animals Week to give cat-walking a try. Many cats will walk on a harness with an extendable leash after a few days of getting used to it. If that makes Mr. Bigglesworth feel too much like Benji, perhaps he would prefer being chauffeured in a Kittywalk stroller.
You can also make the great indoors more alluring by providing lots of interactive toys and scratching posts and playing games with your cat. For more ideas, peruse 250 Things You Can Do to Make Your Cat Adore You by PETA President Ingrid E. Newkirk.

Written by Michelle Sherrow