When a good Samaritan found 10-week-old Kiwi wandering in the woods, the puppy weighed just 2 pounds and was barely bigger than a softball. Nearly frozen in the frigid temperatures, the tiny Chihuahua was thin and dehydrated and suffered from a severe genital infection. The person who found Kiwi immediately called PETA for assistance.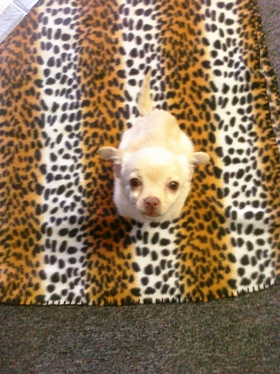 During his short stay at the PETA office, Kiwi won the hearts of everybody he met.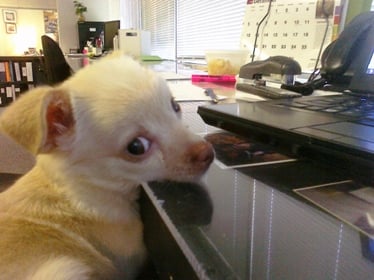 Uh-oh. Kiwi is caught being ridiculously adorable on the job.
After receiving some much-needed medical care and TLC, Kiwi was adopted by PETA members who can't believe the fantastic puppy was homeless. Kiwi's new family includes a 70-pound canine "brother," Higgins, who is so enamored with his little pal that he won't eat a bite of his own food until he knows Kiwi doesn't want any of it. Kiwi is always game for adventures at work, school, or wherever his family is heading. What a happy ending for this little fella!