Chained to a cinderblock and wrapped in a fur coat in the summer heat, a PETA supporter took to the streets of Raleigh while a throng of demonstrators held signs reading, "Heat Killing You? Imagine How She Feels," as well as images of chained dogs languishing in backyards. PETA's point? To let passersby know that dogs condemned to a life outdoors suffer and die in the heat daily—and that the best way to help them is to bring them inside and ask local legislators to pass laws requiring dog guardians to do so.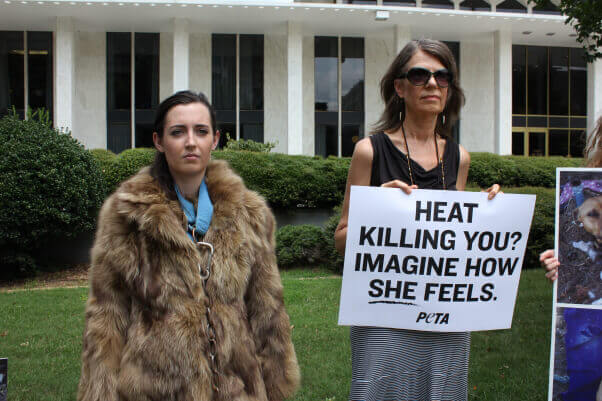 "PETA is asking legislators to give every dog a break from the heat by enacting laws that ban chaining," says PETA Senior Vice President Daphna Nachminovitch. "Kind people everywhere can pitch in by bringing dogs inside and reporting any instances of animal suffering to authorities."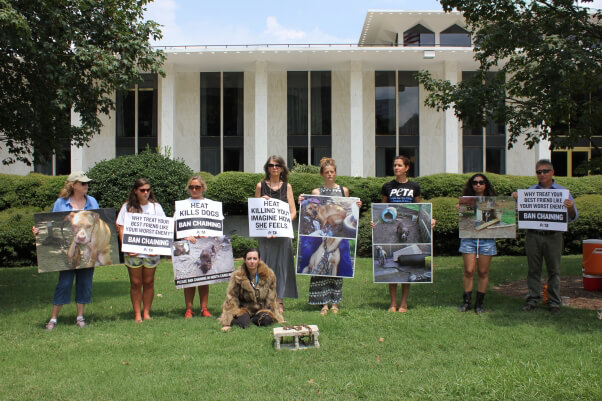 In just this past month, numerous preventable heat-related deaths have occurred, including the following:
A dog in North Carolina was found dead inside a crate after an 18-year-old woman left him out in direct sunlight without water.
In Georgia, a chained dog was found dead, with no food or water nearby, as temperatures soared to 100 degrees.
A dog in Tennessee died after his tether became tangled, leaving him unable to reach food, water, or shelter from the heat.
In South Carolina, a chained dog was found panting heavily and crawling on her side. Despite efforts to lower her body temperature, she died.
A chained 10-month-old puppy in Tennessee died without food, water, or shelter in 90-degree heat.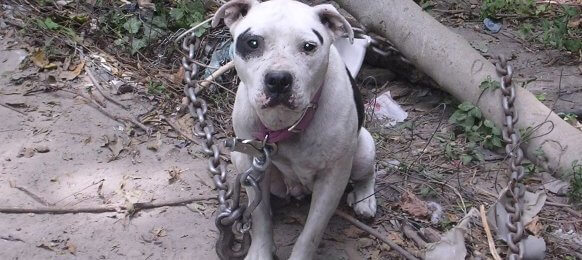 Countless other dogs, including many whose deaths are not reported to the media, endure similar, agonizing deaths. PETA regularly finds chained dogs who are suffering when its fieldworkers travel to rural North Carolina communities to help animals in need.