Stumped about what to wear for Halloween? Forget trying to hustle up some horror out of a hockey mask, and for the love of all that is unholy, please leave that tired old Scream costume in the attic where it belongs. If you really, really want to scare the hell out of people this year—go as one of the Trollsen Twins!
Pelt-wearing party girls who don't give a crap that animals are gassed, electrocuted anally and vaginally, and skinned alive for their fur, Mary-Kate and Ashley Olsen are a truly gruesome twosome. So, with Halloween creeping around the corner and our Trollsen Twins campaign in full swing, we thought, "Why not make Hairy-Kate and Trashley masks?" Then we thought some more and said, "Hmmm, why not give 10 of these terrifying things away?" Which is where you come into the picture: Just send us a comment telling us about your best Halloween costume by October 12, 2008, and you could be one of the lucky stiffs to walk away with either a Hairy-Kate or Trashley mask.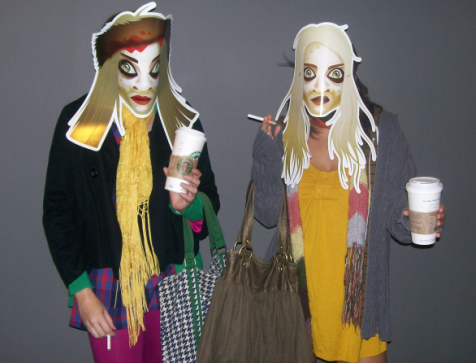 We'll contact the winners by October 13. Heads up, though: We can only send masks to people in the U.S., Canada, and the U.K. … but that doesn't stop us from spreading the "troll-y" love—you can print your own mask here.
Be sure to read the contest terms and conditions and PETA's privacy policy before you comment. By commenting, you're acknowledging you agree to them both.
Written by Amy Elizabeth