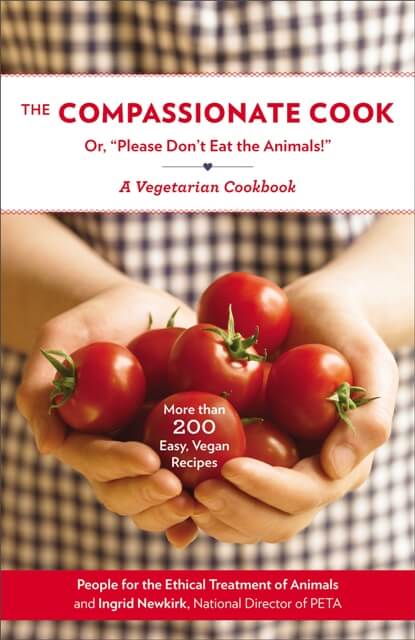 It has been a week of milestones at PETA. Sunday we told you about the 30th anniversary of the Silver Spring monkeys case, PETA's first investigation, which thrust animal rights into mainstream consciousness. Today, PETA's first cookbook, The Compassionate Cook: Or, "Please Don't Eat the Animals!" is being re-released to celebrate its 18th anniversary.
Authored by PETA President Ingrid Newkirk, the book has received rave reviews over the years for its 225 easy recipes made from simple, everyday ingredients for people who want to save animals' lives every time they sit down to eat.
Want to own a piece of history? We're giving away a copy to one lucky reader. Just leave a comment telling us why you want The Compassionate Cook, and a winner will be chosen at random. If you don't win, you can still grab the book at Amazon.com.
Good luck, and happy (cruelty-free) eating!
The winner will be chosen at random from submitted animal-friendly comments telling us why the commenter wants the book. The contest ends September 23, 2011, and the winner will be notified by October 7. Be sure to read our privacy policy and terms and conditions, as you're agreeing to both by commenting. No purchase necessary. Void where prohibited by law.
As an Amazon Associate, PETA earns from qualifying purchases. If you buy something after clicking the Amazon links on this page, a percentage of the qualifying purchase will be donated to PETA and help us protect more animals from exploitation.
Written by Michelle Sherrow