This week, one of my favorite sports events of the year is taking place: Wimbledon, the grand-daddy of professional tennis tournaments. I love it for several reasons: it takes place in England (I am British after all), they play on grass, which is the absolute height of civility if you ask me, and this year marks the first year that the prize money for women and men is equal, which is pretty cool. The main reason I'm so into Wimbledon this year, however, is that they are offering a live webcast, so I can keep up with the action (read: watch Amelie Mauresmo) while I slave away over this blog.
So now that you know that I love Wimbledon—and Amelie Mauresmo—more than is healthy for any man, I guess you know what I'll be doing this weekend. And one of the high points for me is always the fact that John McEnroe is the commentator. The guy had an amazing career as a player and now brings perfect balance and a nice edge to his coverage of the genteel sport of tennis. It's just plain fun to listen to the man.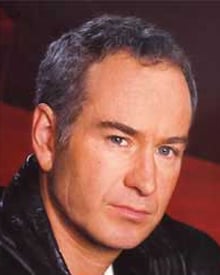 IMGSpeakers/Creative Commons
And in case you haven't seen it, McEnroe starred in this amazing spay/neuter PSA for us. I think he's perfect in it.
So yeah, don't call me on Sunday afternoon. I'll be watching my girl Amelie kick ass and listening to McEnroe talk about it.