Don't worry if you don't get that subject line. It's just a shout out to my homegirl, Anuradha "Slim Shady" Sawhney, who does a hell of a job running PETA India.
The point of this post is really to give props to the whole gang over at PETA India, who just released the incredibly exciting news that the city of Mumbai will no longer allow elephants within its borders. Mumbai's compassionate decision will spare many elephants a lifetime of abuse and neglect, and it sends a powerful message to other towns and cities across the country. You can check out the full story here.
Now PETA India is expanding the campaign to other cities, and they've enlisted India's A-list to help. They just sent this petition, featuring heavy-hitting Indian celebs like Dilip Kuman, Saira Banu, John Abraham, Raveena Tandon, and others, to Chief Ministers across the country, and hopefully we'll be hearing more on this issue soon.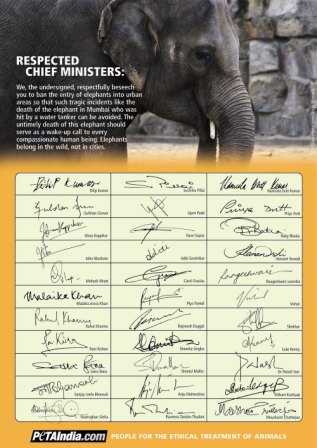 Way to go PETA India!