In light of news that Amazon.com has stopped selling a manual for pedophiles after a massive public outcry, PETA fired off a letter asking the online bookseller to protect other vulnerable beings by refusing to sell products that promote cruelty to animals, such as books on dogfighting and cockfighting.
Right now, anyone can visit Amazon.com and easily purchase books such as The Art of Cockfighting: A Handbook for Beginners and Old Timers and Dogs of Velvet and Steel, which encourage people to participate in cruel and illegal animal fighting—and which even show them how to do it. Dogs of Velvet and Steel advises readers, "These dogs will continue fighting even though most of their ear or a section of their mouth has been chewed off—or a leg rendered inoperable" and "[T]he pit bull is capable of taking a lot. It's not cruel to them; it's fun."
I think this dog would beg to differ!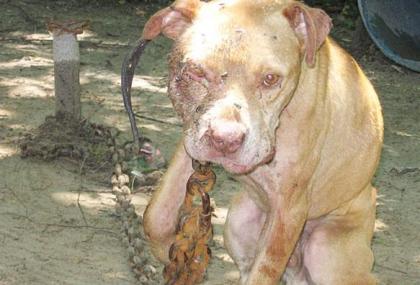 Will Amazon do the right thing and drop these torture manuals? We'll keep you posted. In the meantime, let's make sure Amazon knows that it's unacceptable to sell products that promote violence against any living being.
Written by Lindsay Pollard-Post