The wonder crusaders over at PETA Asia-Pacific have been crossing country borders nonstop for the sake of animals. Their efforts as of late have reached crowds of people in China and Australia, and even more individuals are tuning in via news circuits and the Internet. We say, rock it, PETA A-P! Of course, we fancy our readers to be in the know about everything animal rights—so we've compiled a few photos of our affiliate's latest efforts below. Enjoy!
PETA Asia-Pacific's naked holiday chicks assembled outside a KFC in Adelaide, Australia, where they encouraged bystanders to have a cruelty-free holiday. The brave ladies wore nothing but a banner that read, "Make It a Merry Chickmas: Boycott KFC!" The back of the banner read, "Turn Your Back on KFC Cruelty."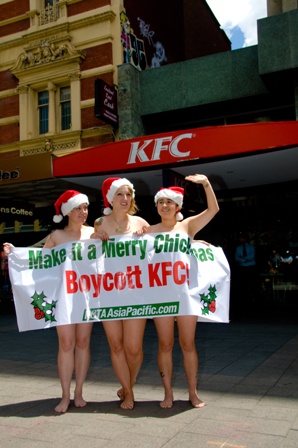 In Hong Kong, locals were greeted by sexy angels outside the Giorgio Armani flagship store. The wretched designer buys his rabbit fur from China—which is now the world's largest fur exporter. PETA Asia-Pacific's investigation of rabbit fur farms in China revealed that the fur industry there is one in which cruel practices—such as shooting animals in the head with electrical stun guns—are rampant.
The Asia-Pacific crew held another Armani demonstration, this time in Sydney, Australia. Activists held oversized posters of the designer sporting an extra-long Pinocchio-esque nose because he went back on his earlier promise to remove fur from his collections permanently. I guess when you're already an animal abuser, lying doesn't bother your conscience that much.
Now, don't those pics just make you want to get out there and do something? Well, get to it!
Written by Jennifer Cierlitsky