Update: May 5, 2020
New York State Assemblymember Linda B. Rosenthal and State Senator Luis R. Sepúlveda have introduced ground-breaking legislation, A10399, which would shut down live-animal markets across the state, helping to prevent the spread of zoonotic diseases and sparing countless terrified animals a violent death. If you live in New York, act now to help support this bill.
Originally published on April 14, 2020:
We like the way these lawmakers think: After PETA urged the World Health Organization (WHO) to help ban "wet markets," California Sen. Henry Stern and New York Assembly Member Linda Rosenthal have announced plans to ban these markets in their respective states.
This announcement also comes on the heels of PETA Asia's recent investigative footage of live-animal markets in Indonesia and Thailand that are still operating despite experts' belief that the novel coronavirus originated in such a market in China.
Deadly outbreaks—including COVID-19, SARS, avian flu, and others—are linked to the filthy conditions that are a result of crowding stressed animals together for food and slaughtering them.
Pigs bond with humans, love to cuddle, and play games. Like many other animals, cows have best friends. Chickens are caring mothers—a hen "talks" to her chicks before they've hatched to teach them to recognize her voice in a flock.
But on farms and in wet markets, animals—with all their personality and emotions—live their entire lives in cramped, filthy spaces. They suffer from respiratory diseases caused by living amid their own waste and the rotting flesh of their fellow animals. Their only escape is when their throats are slit and their bodies dismembered, often while they're still conscious.
Both animal flesh and live, terrified animals are still openly sold in wet markets all over the world, including in the U.S. PETA applauds the progressive legislators in California and New York—who are working with our friends at Social Compassion in Legislation—on their commonsense plan to shut down these dangerous disease incubators.
In California, amphibians, reptiles, and birds are currently allowed to be sold in live-animal markets.
The bill would ban the importation into the state of any wild animal species that could potentially and readily transmit a novel pathogen to humans.
In addition, the measure would prohibit the possession of body parts of several commonly hunted species from Africa, including lions, elephants, giraffes, pangolins, and rhinos, among others. Finally, it includes language that would reinstate at the state level any federal protections of species that have been rolled back since January 19, 2017.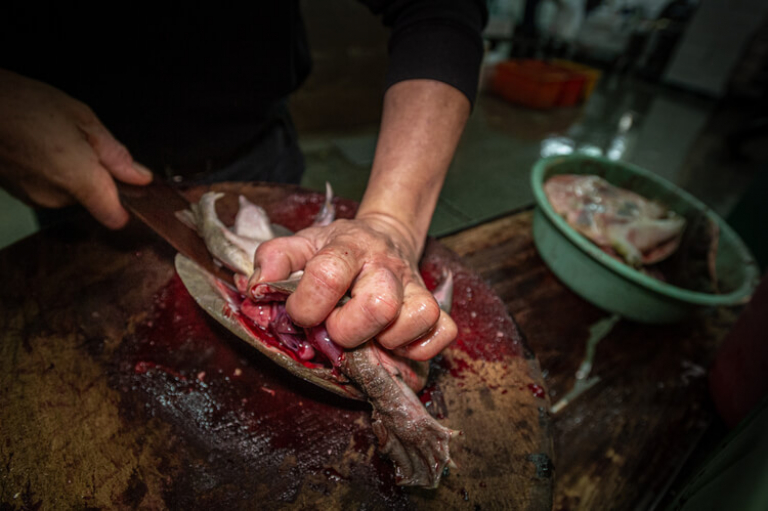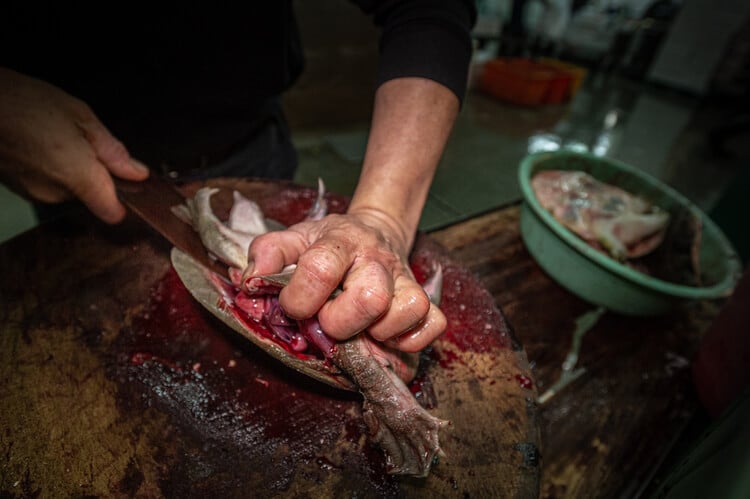 In Los Angeles, local efforts to ban these markets have also started to emerge, including one led by Council Members Paul Koretz and Bob Blumenfield.
And in New York City, more than 80 live-animal markets and slaughterhouses are operating.
These markets sell and slaughter a variety of species for human consumption, including goats, sheep, chickens, guinea fowl, turkeys, partridges, rabbits, pigeons, Muscovy ducks, and quail. With your help, PETA is currently pushing health officials to shut them down.
Last week, 66 bipartisan legislators joined PETA in calling for an end to live-animal markets and New Yorker and PETA Honorary Director Edie Falco implored New York City's mayor to close those within the city.
According to the U.S. Centers for Disease Control and Prevention, "Approximately 75 percent of recently emerging infectious diseases affecting people began as diseases in animals." In addition, health conditions such as cancer and heart disease are also linked to eating animal flesh.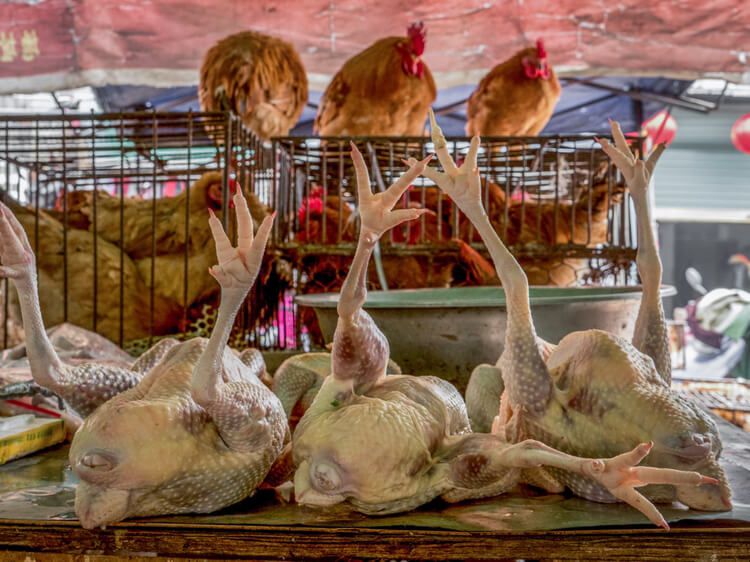 As PETA President Ingrid Newkirk stated, "We need filthy meat markets like a swimmer needs a crocodile—for as long as we keep them open, we put ourselves in mortal danger."
There is one decisive action that we can all take right now to help prevent the next global pandemic: Ditch meat, eggs, and dairy. PETA urges people to combat pathogens and ailments at the source—by going vegan.
We must take action NOW to protect animals and humans before the next deadly disease has a chance to take root.
PETA was the first organization to call on WHO to save animals and humans from the next potential pandemic by closing these markets. But even if COVID-19 weren't affecting every waking hour of our lives, animals would still be individuals who shouldn't be abused or killed for food.
This pandemic is a unique situation, but we'll never stop advocating for dignity and respect for animals.
Click the button below to join PETA in urging WHO to call for an end to deadly live-animal markets around the globe.
Note: PETA supports animal rights, opposes all forms of animal exploitation, and educates the public on those issues. It does not directly or indirectly participate or intervene in any political campaign on behalf of or in opposition to any candidate for public office or any political party.