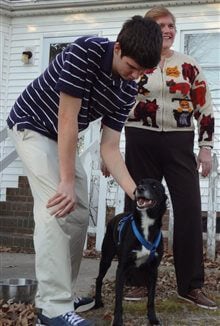 It took months and several news stories about her plight, but Gracie, the spunky three-legged, earless dog who was rescued by an American soldier in Afghanistan and fostered by PETA staffers, has finally found a home.
After Gracie was featured in The Virginian-Pilot, her story touched the heart of Virginia Beach teacher Beth Hall, whose 13-year-old dog had died a couple of months earlier. Beth sent us an eloquent e-mail listing the many pros her home had to offer ("lots of love and attention," a "3/4-acre fenced backyard," and a "cat companion"). Under "cons," she wrote, "N/A."
Gracie moved into the Hall home on Friday and has already wriggled her way into the hearts of Beth; Beth's 17-year-old son, Andrew; Beth's brother, who acts as Gracie's stay-at-home "uncle"; Beth's mom, who pops in for daily visits; and, of course, Marmalade, Beth's cat, who was adopted from a local animal shelter.
Gracie is safe, but tens of thousands of homeless dogs in animal shelters and at rescue groups are still waiting to be adopted. They don't have the great P.R. that Gracie had—they are simply relying on people to do the right thing by adopting from animal shelters instead of buying from breeders or pet stores. If you have the time and resources, consider adopting an animal!