This is the story of 16 freezing, emaciated dogs on a property in a rural town in Kentucky. The dogs were so thin that their ribs were visible and you could count each vertebra in their spines. Two dogs were tied to empty barrels, another spent all day every day tethered to a dilapidated doghouse, and still more spent all winter shivering under a porch, desperate to escape the bitter cold and likely suffering from hypothermia.
These two shorthaired dogs' only shelter? The barrels they were tied to.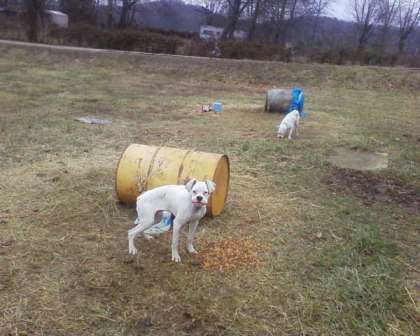 The woman who owned the dogs would leave them for weeks at a time, not only deprived of a loving touch but also without food or water. Yet when complaints were filed with local authorities, the calls were ignored. Nearby residents tried to make sure that the dogs had food and water, but with winter in full force, the water would freeze and—because the dogs were desperate to maintain as much weight as they could to combat the cold—the food would disappear more quickly than the neighbors could supply it.
The starving dogs were climbing over debris (and each other) to eat food left by caring neighbors.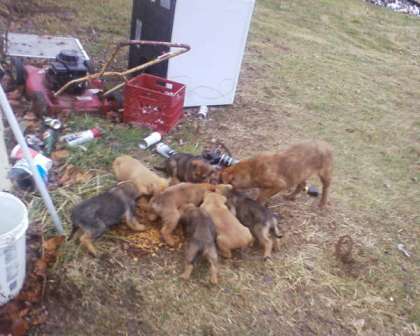 By the time we were notified, one of the females in this miserable situation had just given birth to a litter of puppies. She was so emaciated that nursing the newborns could have been fatal for her. Because the season's first snow had already fallen, the puppies had little chance of surviving.
We worked quickly to get the sheriff's department to investigate, but in the short time it took them to take action, two of the puppies had already frozen to death under the porch. The surviving animals were immediately seized and taken to the local animal shelter. The owner was arrested and charged with animal cruelty.
You might be wondering why we're talking about this heartbreaking case at the beginning of summer. That's because we're entering another deadly season for neglected backyard dogs. Those who somehow survive winter's ice and freezing temperatures will soon face blazing heat and sweltering humidity—if they don't already. Instead of hypothermia, many will suffer heatstroke, flea and tick infestations, and heartworms. Their need for the basics—protection from the elements, food, fresh water, and attention—is year-round.
Chained dogs depend on us to look behind privacy fences and glance under abandoned cars in the junkyard. And please don't tune out their barking. It's their way of crying for help.
Never assume that someone else is already on the case. I can let you know from firsthand experience that not everyone is willing to take action. Several years ago, while living in Chicago, I discovered two dogs who were locked in an abandoned building. Longtime residents quickly gathered around me, voicing their pity for the dogs. Yet when I asked if any of them had called authorities about the dogs, they shrugged and turned away. If I hadn't called to report the case, the dogs may not have been rescued and would likely have starved to death.
All of this is meant as a reminder: Please do more than feel sad or sorry about neglected animals. Take action—you could very well be their only hope.
Written by Karin Bennett