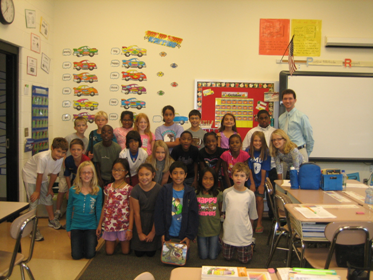 Here's a story that could melt even a snowman's heart. Fourth-grade students in teacher Chris Maxwell's class at Mills Park Elementary School in Cary, North Carolina, have raised more than $300 to help dogs who are trapped at the end of a chain with no shelter from freezing temperatures, snow, and sleet. The kids are donating the money to PETA's national "Change for Chained Dogs" program, which provides dogs who are chained up like old bicycles with warm, sturdy doghouses. Sadly, these doghouses are often the first "homes" that these animals have ever known. To thank the kids for their compassion, TeachKind—PETA's humane-education division—has given the students and the school its Compassionate School Award.
Check out a couple of the happy dogs with their new doghouses:
Inspired by these kids' kindness? Why not sponsor a doghouse in behalf of a cold, lonely dog?
Written by Lindsay Pollard-Post