Last week, Tiarra Duncan, a 21-year-old from Charlotte, North Carolina, purchased a frozen duck from a supermarket. She told BuzzFeed News that she intended to cook the animal for dinner. But when she opened the package, she was "really grossed out" to discover that the frozen duck still had a head.
My fuckin awesome dinner turned horror story of the day pic.twitter.com/gnnHsk47Kk

— Jorōgumo (@Intoxicating_) February 12, 2017
Duncan took to Twitter to share her "dinner turned horror story of the day" in a tweet that went viral. Imagine her surprise: Animals have heads! However, the experience must not have been that horrifying for her—she still ate the dead animal after someone else did the butchering for her, but she admitted that the duck "was hard to look at after that."
Sucks when your dead animal comes with dead animal parts 😳 https://t.co/fYOQYGdeN4

— PETA (@peta) February 17, 2017
While the seemingly hyperbolic tweet was a bit of an eye-roller, Duncan's photos did start a conversation—and even persuaded some people to consider alternatives to consuming dead animal flesh.
I'm a vegetarian now https://t.co/J8IZyOid0h

— Raysa (@yourfriendrae) February 14, 2017
There are many scary things about the meat industry. While most people don't think of ducks when discussing cruelty to animals used for food, these birds are severely abused by the meat and foie gras industries. More than 31 million ducks are killed each year for their flesh.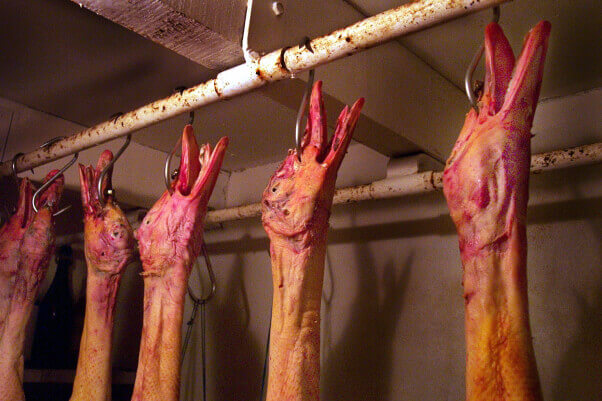 Those who are raised for food—like the one Duncan tweeted photos of—are meant to swim, play, and forage, but instead, they're deprived of all these natural and important kinds of behavior when they're crammed by the thousands into dark sheds with only wire, dirt, or feces to stand on. When they've grown large enough, they're tossed into crates and transported on trucks for many miles through all weather extremes to the slaughterhouse. Those who survive the journey struggle and cry out as they're hung upside down and their throats are cut. Some are still fully conscious when they're dunked into the scalding-hot water of defeathering tanks.
PETA's recent exposé of Culver Duck Farms, Inc.—the second-largest duck slaughterer in the U.S.—revealed that ducks were kicked, thrown, and slammed against walls. Culver slaughters about 25,000 every day. The video below provides an inside look at what you're supporting if you buy duck meat or down-filled products.
Help stop this cruelty, and keep "horror stories" off your dinner plate—order your free vegan starter kit today.