A disturbing video showing a trainer at a Chinese marine park putting red lipstick on a captive beluga whale is causing outrage. In the video, which surfaced on Douyin—a Chinese social network also known as Tik Tok—the trainer says that the lipstick makes the animal "prettier."
https://www.youtube.com/watch?v=qAXJ3PT3DaU
People were less than impressed with the degrading incident, which took place at Sun Asia Ocean World in China, where animals are afforded no legal protection. One web user said, "I can't believe people can do such things to make themselves popular. There are many ways to get more followers and likes, but please don't harm the beluga whale."
Just when you thought we couldn't make the life of an animal in captivity any worse … https://t.co/9eQw9roKqf

— Mark Hawthorne Ⓥ (@markhawthorne) June 11, 2018
PETA Asia echoed the public's outrage, pointing out that stupid stunts like this one are exactly why we can't wait to kiss all marine parks goodbye. Far-ranging marine mammals suffer immensely in captivity, and allowing visitors to touch them and trainers to ride them—which also reportedly took place …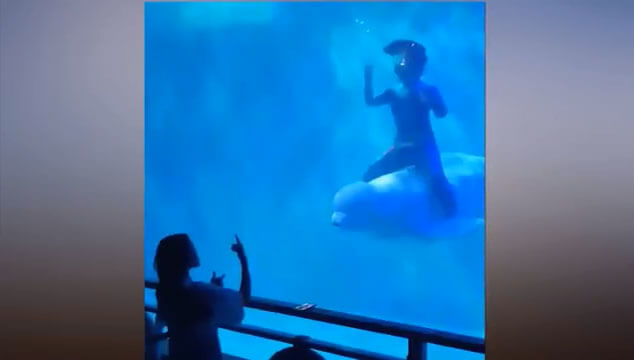 © youtube.com/NNews
… only adds to their stress and shortens their lives. In addition to the fact that ingredients in lipstick can be harmful to animals, it's clear that this park has no idea how to care for these whales and needs to send them to reputable sanctuaries. We advise all compassionate tourists not to patronize establishments that profit in any way from animals in captivity.
Help Save Other Captive Marine Animals, Too
While we continue to urge Sun Asia Ocean World to choose compassion over cruelty, you can help other captive marine mammals who are enduring similar fates at SeaWorld.
Forty orcas have died at SeaWorld's parks to date, many prematurely. The 22 orcas, more than 100 other dolphins and whales, and many other animals who remain prisoners at the abusement parks are being subjected to unnatural, miserable lives, just like the beluga in the Sun Asia Ocean World video. Take a stand for these animals today: