Protesters were arrested today when they crashed a meeting of the University of Texas System's Board of Regents at the Hotel Granduca Austin brandishing signs reading, "Cut Funds to TAMU While Dogs Die." They shouted truthful statements, such as "This is all about money! It's not science—it's violence!" for several minutes, until security removed them from the premises. They demanded that the board pull Texas A&M University's (TAMU) funding until it ends the abusive and futile muscular dystrophy experiments on dogs. (The board oversees distribution of the Permanent University Fund to all University of Texas campuses and to TAMU.)
As the protesters inside were hauled away by security officers, PETA demonstrators outside were just getting warmed up. And they let everyone who passed by know exactly what TAMU is doing to dogs.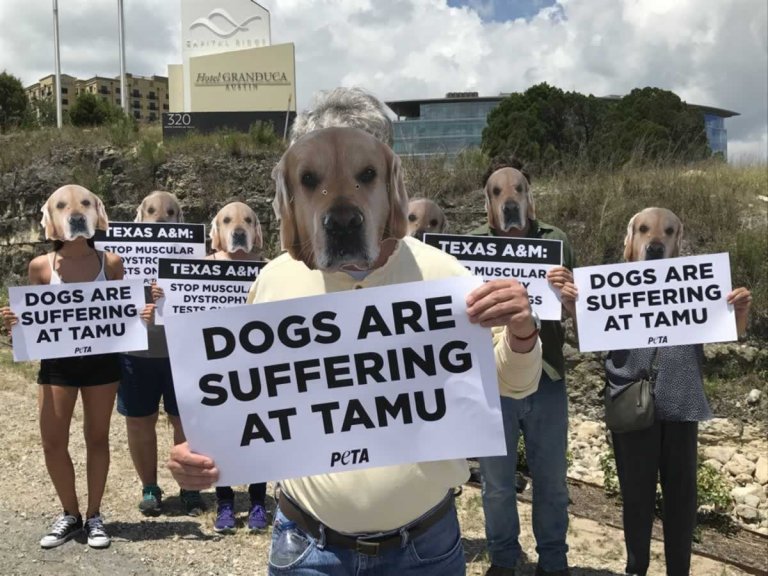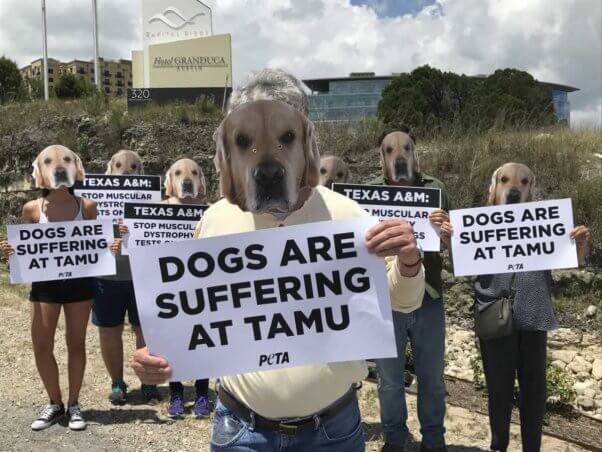 Hidden deep behind the barricades of the school's muscular dystrophy laboratory, a team of experimenters led by Joe Kornegay breeds dogs to develop canine muscular dystrophy. The dogs are caged, often alone, in barren metal cells, and they spend their short lives struggling to swallow and walk. To gauge just how much a dog's muscles have deteriorated, Kornegay has invented a crude technique that could pass for medieval torture: He repeatedly stretches them with a motorized lever in order to cause muscle tears.
---
Learn more about cruelty to dogs at Texas A&M on The PETA Podcast:
Listen to more episodes on iTunes and Spotify! Subscribe for new episodes.
---
No matter how much experimenters deny them their individuality and bodily autonomy, these dogs are their own persons and not humans' to use in twisted experiments. They deserve a safe home, not cages; names, not test subject IDs. They are no different from the ones with whom many of us already share our lives. And the experiments have failed to produce a single effective treatment for human muscular dystrophy in 35 years.
While TAMU wastes precious time and resources, animals and humans suffer and die. PETA scientists have provided the school with information on advanced, human-relevant research methods. It's time for TAMU to listen.
What You Can Do
Urge TAMU to pursue advanced science, shut down its dog laboratories, and allow the remaining dogs to be adopted into loving homes.