BREAKING: Avian flu (aka "bird flu") has sparked six epidemics and caused hundreds of human deaths since it was first reported in live pigeons sold at a market in China in 2013. Bird flu outbreaks are hardly a thing of the past—a new one was just discovered on an egg farm in Victoria, Australia. Yet when a PETA Asia investigator went inside a "pet" market, one of the first horrific scenes they observed was live pigeons being sold for racing and meat. The other scenes—including apparently sickly kittens, dogs kept in feces-covered crates, and other ailing, doomed "pets" for sale—were just as alarming.
The "pet" market, still operating amid China's Asian H7N9 epidemic and the global COVID-19 pandemic, sells live animals, including cats, dogs, rabbits, birds, and guinea pigs. Some are sold for meat (marketgoers take them home to kill them), while others are sold as "pets." At the market, animals were seen caged near other species—for instance, pigeons and other birds sold for meat were kept near rabbits and dogs.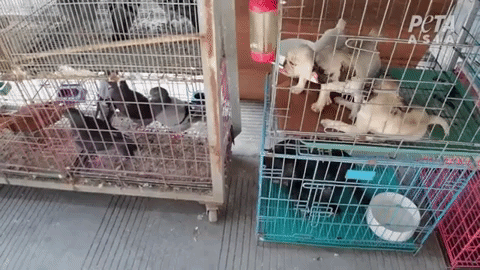 The PETA Asia investigator saw animals who appeared to be sickly or otherwise in poor condition, too, including seemingly ill kittens …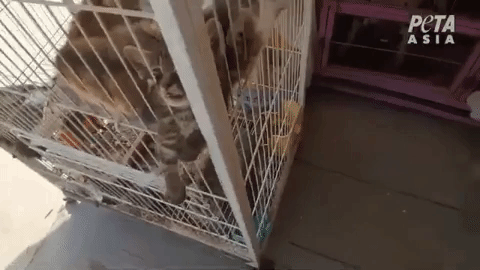 … an overheated pug desperately in need of drinking water …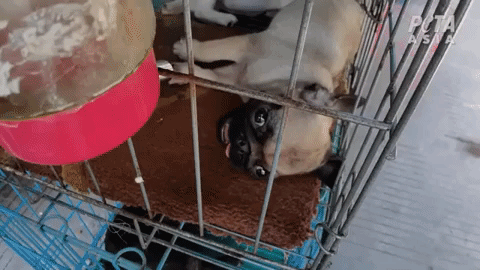 … and a puppy with a broken nail that the market owner had ripped out: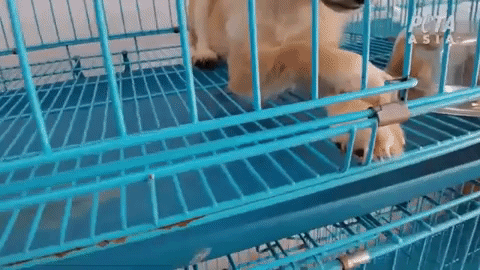 Dogs held in feces-encrusted wire cages without water appeared to be distressed, and their coats were almost as dirty as the filthy cages that they were forced to share. Most dogs at this market are sold as "pets," but any of the animals there can be sold for any purpose—dogs are even sold for meat.
Dead animals were dumped into bins near cages and tanks containing live ones.
Not far from stacked wire cages containing likely scared rabbits and guinea pigs, the investigator noticed a white bucket that served as a "grave" for a rabbit and multiple birds.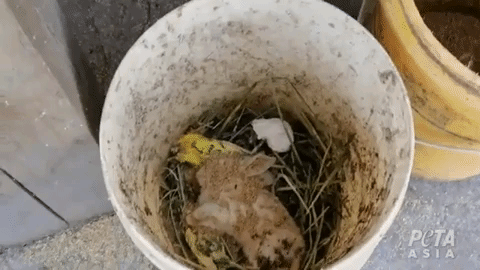 These findings are not unlike the filthy conditions that PETA Asia investigators observed just a month earlier when visiting "wet markets" and other live-animals markets in Cambodia, China, Indonesia, the Philippines, Thailand, and Vietnam. Unsanitary environments like these—where cages are stacked on top of each other, forcing animals to live amid excrement—allow viruses like the novel coronavirus and "bird flu" to spread to humans.
This begs a question: Why on Earth are these markets still open?
As long as sick and stressed animals are crowded together in filthy markets, it remains a matter of when—not if—the next pandemic will occur. Enough is enough: All live-animal markets must go, including the hundreds operating right here in the U.S.
Remember: The only truly sustainable and conscientious way to live is vegan. So as we all continue to grapple with the COVID-19 pandemic, you can avoid deadly diseases and spare the lives of gentle, vulnerable animals by choosing not to eat them.