Cradling his adorable adopted Chihuahua, Owen, comedian George Lopez stars in a new ad for PETA that effectively makes the case that spaying and neutering is cool (and cute!). The new campaign—which Lopez unveiled in person at a PETA fundraiser at Sublime Restaurant & Bar in Fort Lauderdale, Florida—reminds families that "fixing" their animal companions is the only way to reduce the number of dogs and cats waiting for homes in animal shelters and suffering on the streets.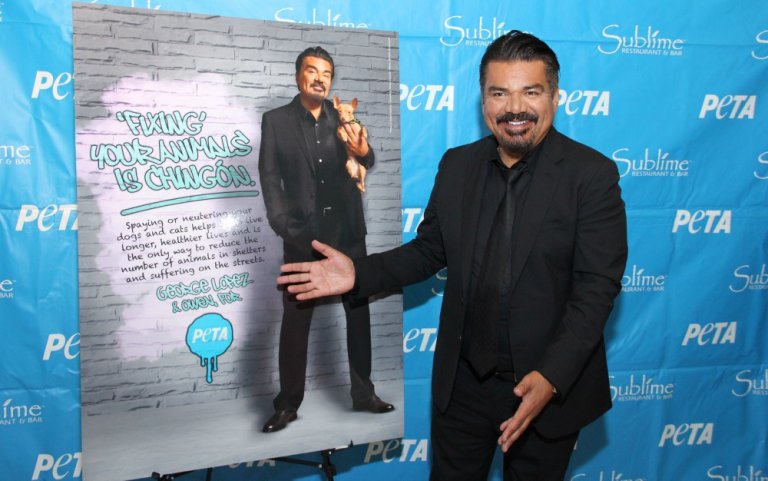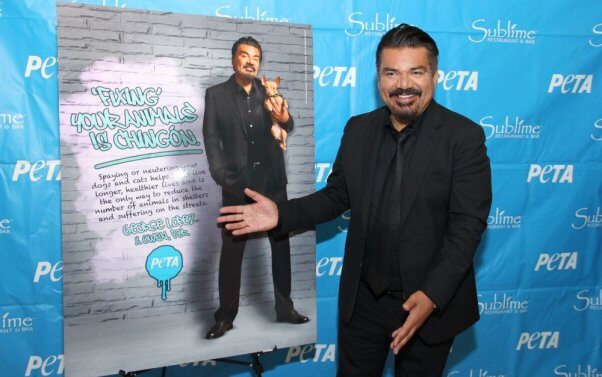 "Chingón," for those of you who aren't familiar with Lopez's catchphrase, means "cool," "awesome," or "bad ass." We couldn't agree more!
In an exclusive video Q&A with PETA, the star of TV Land's Lopez talks about seeing stray dogs everywhere when he was growing up, when few people spayed or neutered their animal companions: "You saw a lot of people that had too many. They couldn't really care for them the proper way—there was a lot of neglect."
More than 6 million unwanted cats and dogs enter U.S. animal shelters every year, and roughly half of them have to be euthanized because there simply aren't enough good homes. Millions more suffer on the streets. The companion-animal "population is way too high, and it has to be controlled" through spaying and neutering, Lopez says.
In addition to combating the homeless-animal overpopulation crisis, sterilizing animals makes them less likely to develop cancer of the reproductive system and—in the case of neutered males—less likely to roam or fight.
Lopez is also a huge supporter of adopting homeless dogs and cats from shelters. "I found Owen in a shelter. Who knows what would have happened to him if I hadn't come along," he says. "If you see the look on a face of a dog who's in a shelter, and then look at them when they get rescued, just for that sheer joy of that look on their face that you're responsible for, it's a beautiful thing to see."
Lopez joins a long list of celebrities—including Joaquin Phoenix, Alicia Silverstone, Casey Affleck, Eva Mendes, Taraji P. Henson, Kate del Castillo, and Marco Antonio Regil—who have teamed up with PETA and PETA Latino to promote kindness to animals. Lopez presented del Castillo and Regil with PETA Humanitarian Awards at PETA's 35th anniversary gala in 2015.