A Compassionate Action Award is on its way to Minnesota resident Steven Peterson, who rescued a deer from an icy river on his way home from visiting family in Missouri for Christmas. After seeing what appeared to be a rock bobbing up and down, Peterson trekked through thick brush and snow and found a distressed deer in the frozen river, her face was covered with icicles. While the terrified animal struggled to escape, Peterson was able to secure her with a trailer strap and pull her free.
https://www.youtube.com/watch?v=wvJm5eqDDJoSteven Peterson/ViralHog.com
Peterson told PETA that after he carried the fawn to a dry spot, "she was looking in my eyes, both [of us] cold, sitting together." Peterson stayed with the deer, who he named Miss Ice River, for an hour and examined her—she had sustained only minor injuries.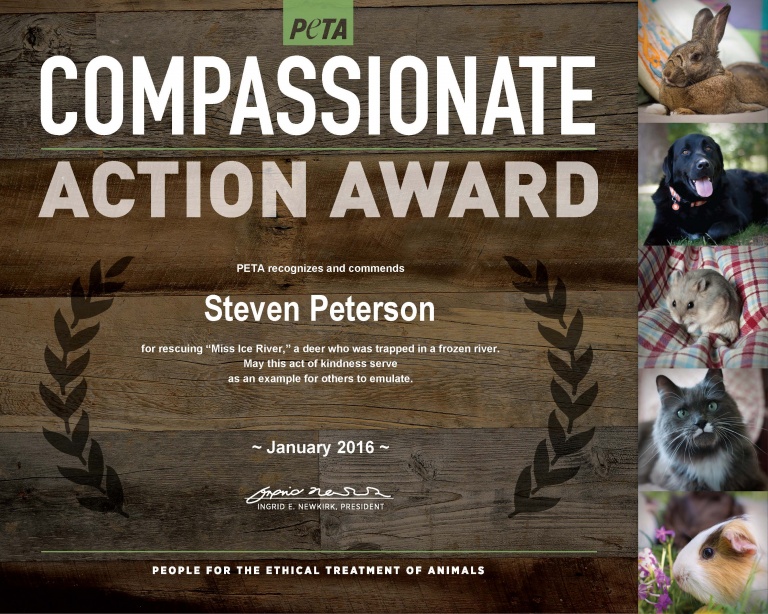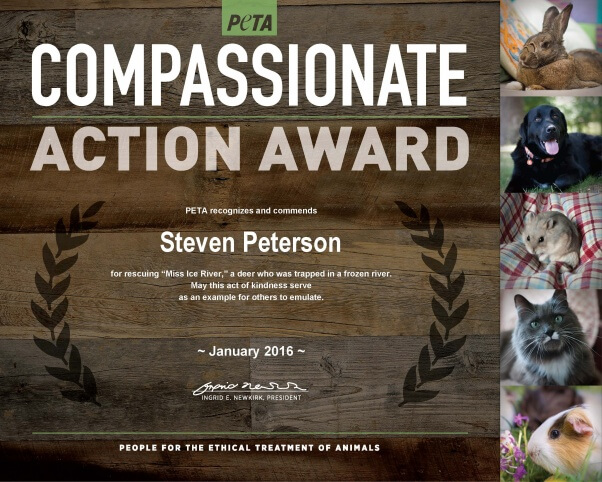 This deer was able to escape a prolonged, painful, icy death, thanks to Steven Peterson's kindness in setting about to save her life. Peterson will receive a framed certificate and a box of delicious vegan cookies.
https://www.youtube.com/watch?v=JH6XFhzTZAkSteven Peterson/ViralHog.com
What You Can Do
You can read tips on how to help wildlife here.