It's hard to imagine the sheer terror you would feel if your home caught on fire. Now imagine if you were trapped, unable to run from the smoke, and saw the flames heading in your direction.
This was the case for a tiny dog who was left trapped inside a carrier barely larger than her own body during a house fire in Oakland, California.
Although the human residents made it to safety, the small dog was still in danger inside the house. Firefighters found her unconscious and pulled her outside, where they removed her from the travel carrier and gave her chest compressions while administering oxygen with a special snout mask provided by an ambulance supervisor. According to the fire department, after six minutes, she began to breathe normally, lifted her head, and even wagged her tail.

#dogrescue pic.twitter.com/Lv9jIoBmgb

— Oakland Firefighters (@OaklandFireLive) December 9, 2015
Although this story has a happy ending, this dog—and all dogs—should never be confined to travel carriers unless they are traveling. And no animal should be confined to a crate while in his or her own home.
Dogs need regular exercise and attention and shouldn't be left to languish in a crate or carrier, where they are prevented from escaping dangerous situations, like fires, and are deprived of the opportunity to walk around, relieve themselves, and stretch out.
For their lifesaving efforts, PETA is sending the crews of engines 26 and 29 of the Oakland Fire Department each a framed certificate, a box of delicious vegan chocolates, and a copy of The Engine 2 Diet—a Texas firefighter's 28-day plan for staying in prime firefighting shape by eating a plant-based diet.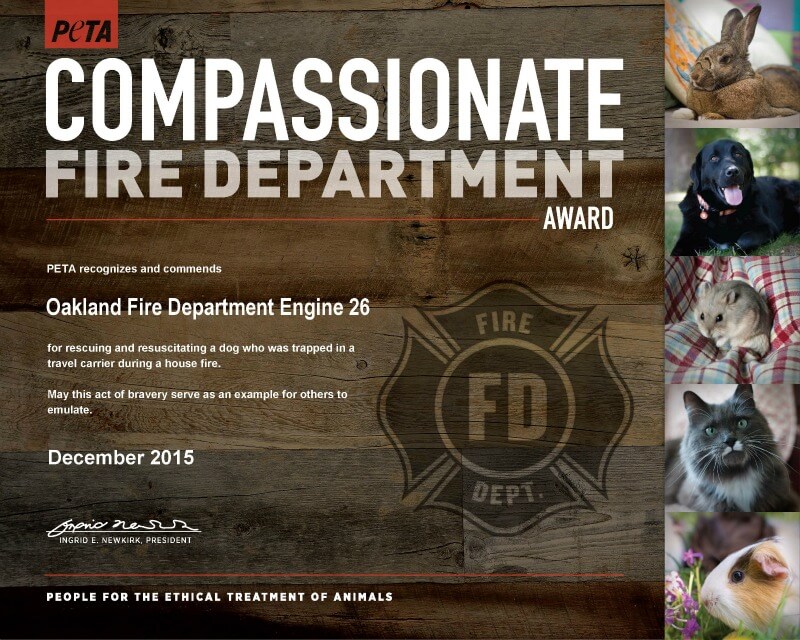 What You Can Do
Don't crate your dog. If you cannot provide at least one long walk and several shorter walks a day, along with vigorous play sessions throughout the day, hire a reputable dog walker, take your dog to doggie daycare, or install a "doggie door" that provides access to a secure, fenced yard. For more information and resources, click here.