Scuba diving allows divers to connect with marine ecosystems in a peaceful and respectful manner. Those who engage in underwater diving are guests in the homes of various marine life. And if you were visiting someone's home, you wouldn't punch them in the face, right? Apparently, this dive guide in the Bahamas would.
In the video above, the hostile guide notices a group of nurse sharks trying to eat from a bait box that he'd failed to close properly. He approaches the fish and can be seen viciously punching one shark multiple times. Later on, he appears to throw a different shark out of the way and pull another by the tail. Dive participants look on in horror as he continues to punish the gentle sharks for his own mistake.
The horrifying incident was caught on camera by Nicholas Jones, one of the dive participants. According to one witness, the guide later said that "he was demanding 'f****** respect' from the gentle sharks," although onlookers seemed unimpressed. Jones told the Daily Mirror that "[t]he guide did not lock the bait box properly twice and proceeded to punish the sharks for their innate ability and natural reaction to accessible food on a shark-feeding dive."
PETA couldn't agree more. Respect for wildlife is something that this stupid man—who twice failed to do his rather simple job of locking a bait box—doesn't understand, along with the fact that wild animals owe him nothing, although he makes a living off them. PETA feels that his employers should show that they don't share his view by terminating his employment and making him find another way to feed himself.
Engage With Marine Life—and All Animals—Compassionately
If underwater life piques your interest, there's no need to harm fish in order to see these fascinating animals up close. Snorkeling and scuba diving can be excellent ways to experience a huge variety of tropical or freshwater fish, sea turtles, eels, rays, and other animals in their own environment. Just be sure to keep your distance and be respectful of these animals' home.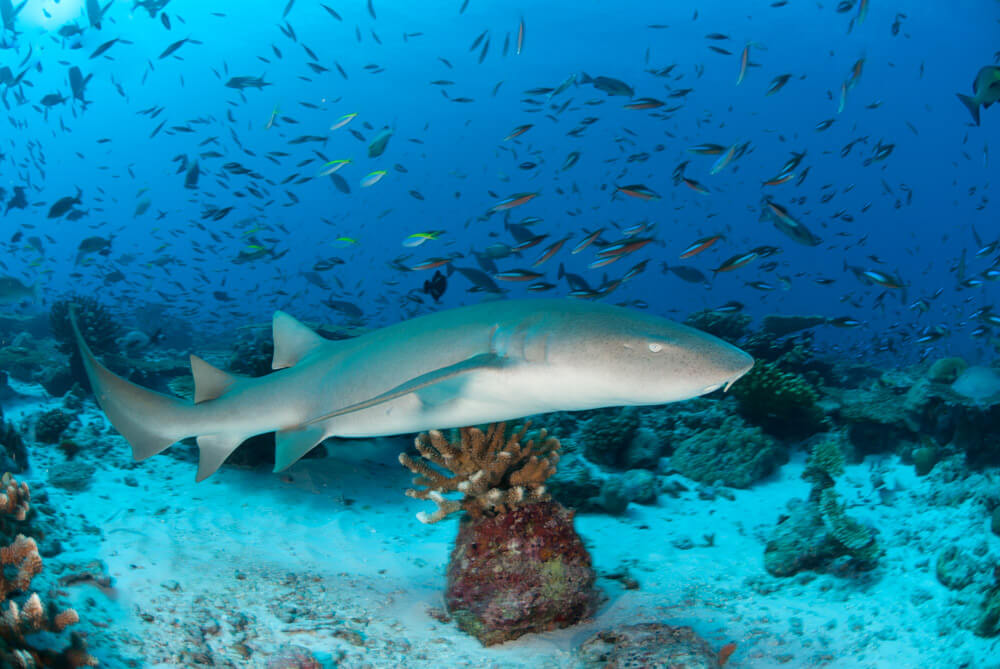 ©iStock.com/Rainer von Brandis
Click the button below to learn more about sharks and to speak up for these sensitive, intelligent animals.