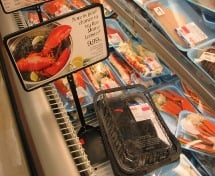 Victory! Raley's has discontinued the sale of live lobsters.
Update: After Thousands of Complaints From Customers, Raley's Has Agreed to Discontinue the Sale of Live Lobsters in Its Stores!
Earlier this week, a customer of Raley's—which is a popular grocery chain in Nevada, New Mexico, and California—sent PETA disturbing pictures of live lobsters kept in tiny plastic containers barely larger than the lobsters' bodies in a Raley's store. After PETA put an action alert up on our site last night, thousands of people wrote to the company to ask that they abandon this cruel practice immediately and consider following in the footsteps of chains like Safeway and Whole Foods and discontinue the sale of live lobsters entirely.
This morning, we received an e-mail from Raley's announcing that the company would do just that! Raley's Spokesperson Nicole Townsend gave PETA the following statement:
Raley's Family of Fine Stores offered live Maine lobsters to our customers for three days during the holiday season. Raley's will not repeat this promotion or offer live lobsters in any of its stores.
It goes without saying that this is a massive victory for lobsters everywhere, who suffer immeasurably in grocery-store lobster tanks before being boiled alive. Raley's compassionate decision—along with the example of Safeway and Whole Foods—sends a strong message to supermarkets everywhere that cruelty of this sort simply will not be tolerated. A huge thank you to everyone who took the time to write to Raley's about this issue! Thanks to your kindness, countless lobsters will be saved from a horrific fate.