In 2014 and 2015, a PETA eyewitness investigation revealed that workers violently handled monkeys and systemically neglected them at Primate Products, Inc. (PPI), a primate dealer based in Hendry County, Florida, that sells monkeys to laboratories and has been awarded federal contracts worth more than $13 million—including by the National Institutes of Health, the Army, and the Centers for Disease Control and Prevention. The shocking footage led the U.S. Department of Agriculture to inspect and cite the facility for at least 25 violations of animal-welfare regulations. An investigation by the USDA Investigative and Enforcement Service is ongoing.
https://www.youtube.com/watch?v=D6zx0Oju8U4
But the suffering doesn't end at PPI. It sent monkeys to Columbia and New York universities, the University of Pittsburgh, the University of Maryland School of Medicine, SNBL USA, and Charles River Laboratories International, Inc., among others, where they will be tormented and killed in cruel experiments.
So, where did the monkeys from the investigation go after the cameras stopped recording?
When PETA filed a public records request with the state of Florida for records showing where the monkeys were sold or sent to from the facility, PPI sued the state to prevent it from releasing this public information. But PPI has now dropped its lawsuit. Its voluntary dismissal of the lawsuit comes after a judge ruled that PETA was permitted to intervene and denied PPI's first attempt to block PETA from obtaining the records.
Now we may be able to find out what happened to monkeys like Loretta, who plucked out her own hair after she was housed in a dangerous social grouping and attacked by other monkeys.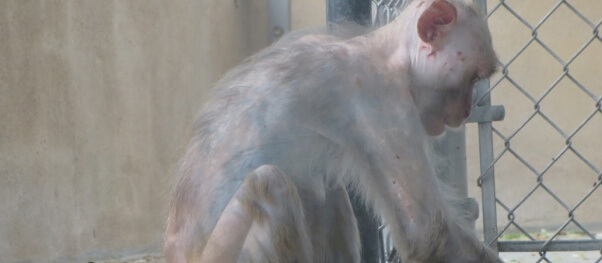 How You Can Help

Please ask officials in Hendry County, Florida, to take action against PPI! These officials determine whether PPI is violating the county's Land Development Code by using its land in ways inconsistent with its agricultural zoning—including by holding wild and exotic animals captive and exploiting them for their blood, spinal fluid, eye fluids, tissue samples, and more.