Update: PETA has just received more good news for animals in laboratories: Tox21, an ongoing collaboration among the Environmental Protection Agency, the National Institutes of Health, and the U.S. Food and Drug Administration, will use a high-speed robotic screening system—not animals—to test 10,000 chemicals for toxicity. This switch will prevent countless animals from suffering in painful and antiquated tests. Could the government actually be moving into the 21st century on this issue?
The below was originally posted December 15, 2011
The scientists in our Regulatory Testing Division always appreciate PETA supporters who respond to their (ahem) somewhat technical action alerts. And they especially appreciate the more than 25,000 of you who responded over the past year to our alert calling on the Environmental Protection Agency (EPA) to use non-animal methods to reduce the numbers of animals to be killed in the agency's massive endocrine-disruptor screening program (EDSP). 
On Tuesday, your efforts paid off, and the EPA issued a statement pledging to implement changes to the EDSP that have the potential to save more than 3 million animals!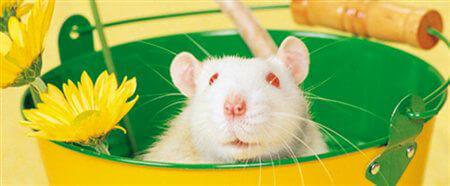 The EPA's new work plan, EDSP21, will use non-animal methods such as computer models and tests known as "high-throughput assays." In issuing EDSP21, the EPA stated that by incorporating advances in computational modeling, molecular biology, and toxicology, "EPA will prioritize and screen chemicals with greater speed, efficiency, and accuracy, while minimizing the use of laboratory animals."
PETA's scientists worked exhaustively over the past five years to push the EPA in this direction by publishing op-eds; submitting legal petitions, technical comments, and testimony; lobbying; and making presentations at conferences and workshops. Six months ago, PETA published an article in a scientific journal and provided the EPA with a clear pathway that is strikingly similar to what the EPA is now planning to implement. 
The EPA's current EDSP program requires the use of approximately 500 animals per chemical screened for potential interaction with the endocrine system. Since the EPA has estimated that there are between 6,000 and 9,700 chemicals to be prioritized and screened, the potential to save animal lives is huge. PETA will, of course, remain hyper-vigilant to ensure that the EPA follows through on this commitment.
We're also keeping the pressure on Congress to end invasive experiments on chimpanzees and retire all the federally owned chimpanzees to sanctuaries. You can now help get chimpanzees out of laboratories and into sanctuaries by clicking here to urge your congressional representatives to pass the Great Ape Protection and Cost Savings Act.
Written by Jessica Sandler