How am I just hearing about this? Come on, the first ever veggie dog eating contest, I would have been on a plane to get there faster than the Olsen twins throw up their lunch. Seriously.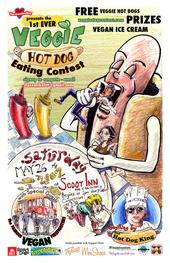 The soon to be annual event happened last Saturday in Austin, TX, and the report I got said that over 300 people attended, and 40 contestants devoured some 600+ veggie dogs in about 24 minutes. Not bad, eh? The inaugural World Veggie Hot Dog Eating Champion, at a count of 16 ½ veggie dogs, is Colin "the Tim Duncan of Competitive Eating" Kalmbacher, a vegan.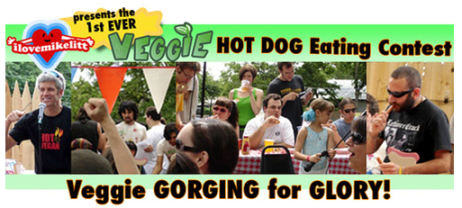 Full results and photos will be posted here soon. And of course, mad props go out to ilovemikelitt for putting this event on. Fair warning to you, Colin, I've already started training for next year. I'm coming for your title. Be afraid. Be very afraid.